(Game) Hot Wheels – Race Off
iphone games for free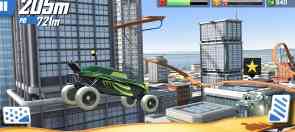 Game Description :
Everything you love about Hot Wheels brought to life in an awesome racing game
Game Features :
 RACE 30+ Hot Wheels cars across 60+ insane physics racing tracks
 BLAST OFF of boosters, loops, and jumps to stunt on the iconic Hot Wheels orange track
 UPGRADE AND BUILD YOUR COLLECTION of Hot Wheels cars
 CHALLENGE YOUR FRIENDS and the world in competitive multi-player mode
Hot Wheels: Race Off is pure adrenaline sure to get your heart racing. Download the best free racing game today!
Additional Information :
Compatible with iPhone, iPad, and iPod touch. Apple TV.
Requires iOS 8.0 or later.
Size 313.6 MB
User Reviews :
We'll never outgrow Hot Wheels, but this action-packed racer is more than just kid's stuff. Its classic orange tracks are full of physics-based challenges that reward skillful driving with eye-popping stunts. The only thing cooler than pulling off epic wheelies, flips, and jumps is unlocking another new gorgeously detailed car.
It's upsetting that you can only collect the type of coins for the car your using, but never be able to use it for anything else……. and the cars rear up WAAAAAAAAAAAAY to easily!!!!!!!!!! I keep losing cause I can't keep the car on four wheels while trying to climb up steep hills. I was stuck on level 3 for hours because of that one hill that even if I did pass, would be about the same time I run out of fuel………. I don't know how she did it, but my younger sister is on level 12!!!!!!!! So clearly it's not impossible. But still. It's four stars because its addicting, misses the five star mark cause it's so hard even after a max upgrade to keep your wheels on the ground when you need it……My only goal now is just to COMPLETE the coarse! But even THAT is almost IMPOSSIBLE!!!! I found out that your playing against REAL people's highest scores worldwide! For example, I've actually this whole time been trying to beat my sister's score!!!!! You're not playing AI with all the best vehicles! They have the highest scores because they are good enough to have a better truck. But the levels are still hard to pass.
WARNING!!!!
If you wanna play versus, DONT PICK RANDOM!!!!! It's an AI!!!! It's the same. Three. Players….. EVERY. SINGLE. TIME! Just play against a friend.
Only some progress completed, hoping the grind doesn't become too tedious. I was a little disappointed when I realized each car has its own currency, so now there's money on the starter car that can't be used. Other than that, it's okay so far. *Update* As I feared, the grind is just becoming too tedious and drawn out. The loot boxes keep giving me currency for cars I don't even use. Also, you'd think each new car you unlock would outperform the previous right? Wrong… I've been grinding with Mountain Mauler for what feels like half an eternity, a lot of this is due to Mountain Maulers less than adequate performance and ability to keep its front tires on the track. I have Mountain Mauler almost fully upgraded, yet I'm getting spanked left and right by every other player with Dune it up. It would be really helpful if there was perhaps a conversion system to change unusable credits into something…usable? Also, with the little progress I have somehow made despite my hours of investment, I can declare with utmost confidence that HW Poppa Wheelie is the most useless car in this game by far. You will be grinding with this car for quite some time, so get comfy… it's gonna be a while, if you're willing to put up with such a lousy excuse for a car. If I can't make any real progress soon, I'll just have to delete this and move on to something more worth my time, and money if it can prove itself worthwhile. Which this game is not doing so well at this time.
Get Hot Wheels from App Store
What is your opinion about Hot Wheels
Get more free apps & games daily
Subscribe to our mailing list and get free apps & games daily to your email inbox.
Thank you for subscribing.
Something went wrong.