(Game) Highway Rider
free games download for iphone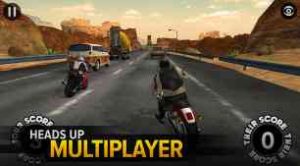 Game Description :
Highway Rider is a free and exciting motorcycle racer that lets you dodge traffic with blazing fast speed and zoom down a busy highway, passing by cars and semis, and building up your points to become the best there is!
Escape the flashing blue lights of the police by speeding through traffic barriers and narrowly avoiding collisions. Collect tons of unlockable racers, share photos and videos of your collisions with other racers, and customize your bike in this high speed motorcycle action game.
Game Features :
Extreme Racing
Dart and dodge traffic while trying to get the high score with close calls between cars and trucks!
Use boosts to go faster and increase your scores on 4 different highways.
Customize Your Bike
Customize your motorcycle and give your racers their own unique style!
Unlock all 10 characters with their own motorcycles and outfits!
Real-time Multiplayer Races
Battle other racers in head-to-head racing games and other multiplayer games.
Share your spectacular crashes and wipeouts with all of your friends!
Complete online racing challenges and unlock achievements!
Fugitive Mode
Outrun the cops and break through police barricades in this furious game of cat and mouse!
Speed junkies, slap on your motorcycle helmets and experience some high-octane racing! Zoom down the open roads and try not to crash! Highway Rider is the ultimate racing game for any motorcycle fan!
Comment below your feature requests and favorite features! We will continue to update the app with more content and features.
Follow us at @batteryacidapps or the creator at @derekarndt
Additional Information :
Compatible with iPhone, iPad, and iPod touch.
Requires iOS 9.0 or later.
Size 169.7 MB
User Reviews :
Okay so I know that this game might not be available to play FOR GRAPHICS but more for Fun. I get that. But it just makes it a lot better when it doesn't look so… I don't know garbage? I'm not trying to hate on this game but I'm just telling the truth ;-; i just find it very boring after just 20 minutes because it has nothing extra or makes it stand out. But that's what you get for downloading things for free I guess. It's not like I'll be able to create games soon anyways and I'll probably won't get any close to this with creating games till I'm like 20. Idk. But also when you want to play multiplayer in this game it's Soooooooooooooooooooooooo long to wait. I couldn't even wait 3 minutes. It took so long. I didn't bother to wait anyways. I guess this game is there so you aren't bored? Makes it a lot funner though when it doesn't look so bad. But at least it's not laggy.
I'm in my 50's and just starting to play video games again. The last "system" I mastered was the "Atari 2600." That being said, the graphics on some of today's games are more like you're controlling a character in a movie! Just blows my mind how realistic some of them are. Fortunately this game doesn't seem to have that effect on me. In other words I'm saying the graphics could be a bit better, and the control of the bikes are a little slow. Otherwise this game will keep you entertained and having fun. Keep it right side up and avoid the road rash!
Get Highway Rider from App Store
What is your opinion about Highway Rider
Get more free apps & games daily
Subscribe to our mailing list and get free apps & games daily to your email inbox.
Thank you for subscribing.
Something went wrong.