(Game) Highway Crash Derby
iphone games for free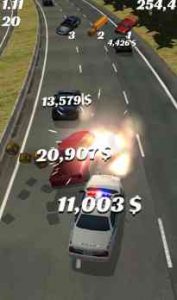 Game Description :
Take your race car out on the highway and try to cause as much damage as you can!
Swipe your way through the traffic and wait for the right moment to cause a massive highway crash.
The further you drive without crashing, the higher you can score!
Game Features :
Featuring 8 different kind of vehicles including
a sports car with rocket boost
a police car
a pickup truck with an explosive load
an ice cream truck with working music player and a special ability
a hovercraft
a hacker van, which can take control of any other car on the road
a TOP SECRET vehicle, hidden inside a big crate.
Additional Information :
Compatible with iPhone, iPad, and iPod touch. Apple TV.
Requires iOS 8.0 or later.
Size 156.2 MB
User Reviews :
So this game hasn't been updated for 2 years so I'm certain they abandoned it or something, but just in case I'm writing this…One of the issues I've had is I have the iPhone XR and the screen doesn't fit properly for my phone, but not just my phone the iPhone X and up. Another thing I don't like is the helicopter, it's very annoying because I've been so close to getting so many achievements but before I can get them I'll have picked up three rockets and the rockets explodes the cars into my path and I've found it VERY hard to dodge so as MANY other people have suggested, adding a on/off switch would be great. I don't really like the camera mode after you crash because it's made it difficult to watch the crashes because something will happen off in the distance where u can't even see because of the fog like stuff, and it's very hard to get the angles you want… but besides those things it's a very fun game and I've been playing it since I was 7!
I absolutely love this. Although here are some things you should add.
1. Maybe add a city map? I think a city would be great, also have pedestrians as well and maybe add a train crossing too! I would love to see a car get hit by a train.
2. If your chasing a car in the police cars you should make it so if you pass another police car they will join the chase.
3. Make the camera free roam, it's kinda awkward.
4. While your crashing make it so when there's no more cars coming an ambulance a fire engine and police cars are blocking the road.
5. Make it so if your being chased by a cop you can pull over.
6. Make it so trees can be knocked over! This would be great especially for those big rigs.
7. I have an idea for a new vehicle, what about a killdozer ( bulldozer with armor and guns ). If you add it make sure it can knock things out of the way and have cops chasing it.
8. Make it so you can turn on some music on a radio while driving.
9. If your in a emergency vehicle, make it so you can turn on sirens and turn on a police radio.
UPDATE: Just a few recommendations: support for landscape orientation, and also free test drives DON'T work with IOS 11.
REVIEW: This game is perfect with an added layer of perfection!! The game is super fun, runs well and NEVER gets old. You can get started right away, the game isn't hard to play at all. You can paint your car without having to pay, and speaking of pay, sure, in app purchases are there, but they're there for convenience, not to be REQUIRED to continue the game. Adds are there too, but only occasionally, they don't appear too frequently. Overall, a great game and everything I have been wanting in a car crashing game.
Get Highway Crash Derby from App Store
What is your opinion about Highway Crash Derby
Get more free apps & games daily
Subscribe to our mailing list and get free apps & games daily to your email inbox.
Thank you for subscribing.
Something went wrong.