(App) HealthTap – 24/7 Telemedicine
 iphone apps for free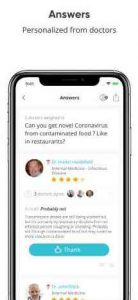 App Description :
Have a health question? Get FREE personalized medical information and guidance 24/7 from your phone or tablet. With your free account, you can:
1. ASSESS and triage symptoms with our artificial intelligence-powered symptom checker
2. SUBMIT written questions and get personalized, doctor-written answers in 24 hours or less
3. SEARCH our library of patient-asked, doctor-answered medical questions
4. ACCESS care guidelines for hundreds of topics and conditions
App Features :
NEED TO SEE A DOCTOR? Get 24/7 access to HealthTap's U.S.-based, board-certified doctors by text, phone, or video, with wait times of less than 1 minute. Unlimited virtual doctor visits are just $119/per year.
Virtual doctor visits currently not available for people in Alaska, Arkansas, Idaho, Oklahoma, Rhode Island, and Vermont
7 top reasons to see a HealthTap doctor:
1. You don't want to expose yourself to other sick people at a clinic or hospital
2. You don't have time to leave work or school
3. You can't leave the house because you're taking care of kids or other family members
4. You're not sure if it's worth the time and/or money to see a doctor
5. It's after hours, the weekend, or a holiday, so you would have to go to an urgent care clinic or the ER, even though it's not an emergency
6. You want the anonymity of seeing a doctor online vs. walking into a busy clinic or hospital
7. Your doctor isn't available
Your HealthTap doctor can fill prescriptions, order lab tests, and refer you to other doctors, including specialists.
After your virtual doctor visit, you will get a treatment plan with easy-to-follow instructions and reminders to help you stay on track.
HealthTap will build your health dossier and store all your data in one place. This includes medical treatments, prescriptions, labs, wearable devices, and doctor visit notes — and it all works together to provide a more personalized experience.
100% SECURE & CONFIDENTIAL
We take your privacy very seriously. Your visit with the doctor is confidential and HIPAA compliant.
What people are saying:
[HealthTap] literally saved my life! HealthTap is the one app you MUST have on your mobile device – just-in-case!
PC Magazine – "The next time you have a medical question… try asking the doctors on HealthTap.
Copyright © 2020 HealthTap, Inc. All Rights Reserved.
HealthTap may not be available in certain states and is subject to state regulations. HealthTap does not replace the primary care physician, is not an insurance product, and may not be able to substitute for traditional in-person care in every case or for every condition.
HealthTap does not guarantee patients will receive a prescription, does not prescribe DEA controlled substances and may not prescribe non-therapeutic drugs and certain other drugs which may be harmful because of their potential for abuse.
For complete terms of use visit www.healthtap.com/terms
Additional Information :
Compatible with iPhone, iPad, and iPod touch.
Requires iOS 11.0 or later.
Size 238.9 MB
User Reviews :
As a former user of the service and now coming back to the app I can better recommend Healthtap based on how I think the information is better tailored to help users with their individual lives and the goals they have. This starts with the app as I think the redesign from previous versions is a step up. Just the change of the logo and application color from red to blue brings a more tranquil experience to the user experience. The app is easy to navigate and searching for what you may want is less cumbersome. It is still easy to post a question for a physician to answer in case that is all you are interested in. For those who want more a big addition is the care guides which are guidelines set by a physician to reach a lifestyle goal whether it is to be healthy, get flat abs, care for your child, etc. The guides are easy to follow allowing users to enroll at the tap of a button. The app still makes it easy to centralize all of your health data but for those like myself who prefer to use another platform for this task, such as Apple Health, That data to can be incorporated.
It's been about two years now since I have started using HealthTap. I don't have health insurance and seeing a psychiatrist is so affordable with the app. I mainly use this app for psychiatry and I have yet to find another medical app that's as affordable. I have also experienced great customer service. I have reached out to them multiple occasions with different issues and it's always kindly and reasonably solved. I believe HealthTap has two types of subscription. I'm subscribed to one of them. The app isn't perfect and depending on how you use it, you might not be as satisfied as me. I see it improving over the years though and they have added new features. As of now, I'm definitely going to continue using it. Thanks HealthTap for making healthcare more accessible!
Get HealthTap from App Store
What is your opinion about HealthTap
Get more free apps & games daily
Subscribe to our mailing list and get free apps & games daily to your email inbox.
Thank you for subscribing.
Something went wrong.