(Game) Happy Wheels
free games for ipad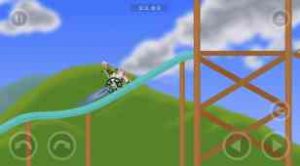 Game Description :
IMPORTANT – SUPPORTED DEVICES
iPhone 4S, iPad 2, iPod Touch 5, iPad Mini 1, or better.**
Happy Wheels is a side-scrolling, physics-based, obstacle course game with over a billion plays online and is now available for your mobile devices. Assume the role of your inadequately prepared racer and ignore severe consequences in a desperate search for victory.
Now play as Effective Shopper on an electric shopping cart, Wheelchair Guy on a jet-powered wheelchair, Irresponsible Dad and his son on a bicycle, or as Business Guy on a personal transporter.
Game Features :
Over 60 unique and challenging levels
Create your own levels in the editor
Deadly obstacles: spikes, mines, wrecking balls, harpoons, and much more
Smooth, realistic physics
Game Center leaderboard support
Additional Information :
Compatible with iPhone, iPad, and iPod touch.
Requires iOS 8.0 or later.
Size 85.8 MB
User Reviews :
I love this game. However, there are a few small problems that I would like to see changed. First, it would be nice if the game was synced with iCloud. I play the game on two devices and there is no way for my progress to be shown on both devices other than doing the levels twice. If the game was sync with iCloud I wouldn't have to do that. Second, there should be a feature on the game where you can watch a walk-through of the level or scroll through the entire level so that you know what you have to do. I think that this would be really helpful. Last, I think the level should have periodic check. So that you don't have to restart the entire level when you're done. Other than those minor problems, I really like the game and I play it all the time!
I love the game itself, easy controls, and it has a fun concept. There are a few things I'd change though.
1. I'd hope for more updates. The game rarely gets updated, so once you've complete everything, there's not much left to do, other than the level maker. This is where number 2 picks up
2. The level maker is hard, especially on an iPad, iPhone, Kindle, etc. I'd love if it wasn't so hard. The layout seems a bit weird, and it's hard to make levels.
3. I wish you could play fan made levels on the app, and you didn't have to go to a website, and use a computer.
4. I want more settings! There are very little things you can change, and there are very little settings. It'd be nice to maybe have other ways to operate your controls, like if you were left handed or something. There are other things that you could add in settings to make it easier for each player.
5. Too many adds. I get that you need adds to run the game, but maybe not so many. I get you can pay to remove them, but 1.99 seems like a big price to pay for so many adds. Not a big deal, but it's just something that gets on my nerve after a while.
This game is great, and I'd definitely recommend getting it. It runs smoothly, but I feel like there's a lot to be added before it hits its max potential.
Get Happy Wheels from App Store
What is your opinion about Happy Wheels
Get more free apps & games daily
Subscribe to our mailing list and get free apps & games daily to your email inbox.
Thank you for subscribing.
Something went wrong.