(Game) Happy Racing – Online Wheels
iphone games for free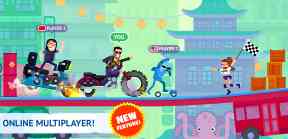 Game Description :
HAPPY RACING is a rag-doll physics-based game with many inadequate characters trying to reach the finish line. Choose your sick racer and start the chase for VICTORY NOW!
Game Features :
Expect SUPER COOL RAG-DOLL PHYSICS, loads of extraordinary vehicles! TONS of levels, which will be updated every month! And SHEER MADNESS that you have never seen before!
Additional Information :
Compatible with iPhone, iPad, and iPod touch.
Requires iOS 9.0 or later.
Size 206.5 MB
User Reviews :
This game company has made awesome games in the past but we can all say it's the best but I have a few requests 1. When any of my characters legs come off but keep dangling on he/her body I get slowed down 2. There should be friends in the game so you don't just play with the "unknown" all the time and so you can play with people you know sometimes. 3. There should be tag teams and you can join a team or create a team and you guys can chat and have game plans and stuff with that comes. 4.there should be leaderboards and you get a character you have to pay for if your team comes in first. 5. You should be able to use game coins to create your own character. 6. Every time a new character is added to bow masters put them in the game. 7. There should be custom maps so you can play more maps. This a great edition to Bow masters and Party masters and please put all these things in the game you guys make my favorite games thanks for your time
I don't like it I love it I told everyone in my family and they said we don't like baby stuffI showed them on my phone and keep playing it hour and hour I came back and she or he was stick to my phone it had 100% and then it had 5% I said can i have my phone back and she did not give it to me I had to hit her I got in trouble but I got my phone to play this game about 100% is how many stars I'm giving this app !
I really enjoy this game. If they can manage to keep improving it, there is no question that Happy Racing is a 5 star game. As it stands now, there are no shortage of glitches locking up the app or making it run slow. Though I will say, sometimes the 50% speed makes for an interesting race, certainly making it easier to react in time. There are a ton of single player levels, though I of course hope for more in the future. And online play is good fun. The improvements I hope to see, less glitches, more levels and a use for all the, useless, money I keep getting after having unlocked all of the characters.
Get Happy Racing from App Store
What is your opinion about Happy Racing
Get more free apps & games daily
Subscribe to our mailing list and get free apps & games daily to your email inbox.
Thank you for subscribing.
Something went wrong.