(Game) GT Racing 2
iphone games for free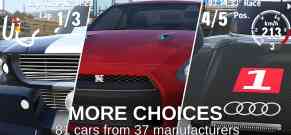 Game Description :
GT Racing 2: The Real Car Experience is a true-to-life automotive journey featuring the most prestigious cars in the world!
The best-selling franchise is back and it's designed to offer an unprecedented level of driving enjoyment whether playing solo or multiplayer.
Game Features :
LEADERSHIP: POSSIBLY THE BEST HANDHELD RACING SIMULATION
The richest handheld racing simulation this year: 71 licensed cars on 13 tracks including Laguna Seca
A superb collection of cars from over 30 manufacturers: Mercedes-Benz, Ferrari, Dodge, Nissan, Audi, Ford, and more
Test your driving skills by completing 1,400 events, including Classic Races, Duels, Knockout and Overtake.
28 new challenges each week: improve your driving skills & maybe win a new car!
AUTHENTICITY: A DEEPER DRIVING FEEL
The new physics model offers the most realistic car dynamics ever.
The sun is not always shining in GT Racing 2: our tracks have different times of day and weather conditions.
Race your way by choosing among 4 different cameras, including a breathtaking interior view!
No repair times and no repair costs! We won't make you wait or pay to race in an event again.
EXPERIENCE: ENJOY THE RIDE SOLO OR IN MULTIPLAYER
Compete with your friends or with players from all over the world. Earn the fastest time on each race of Multi mode!
Join Teams to play with other drivers and accomplish common goals.
New racer? Turn on Steering & Braking Assistance to get up to speed in a flash!
Veteran driver? Tweak your performance in the garage with tons of custom options!
No game offers you a more realistic racing simulation than GT Racing 2.
Visit our official site at www.gameloft.com
Follow us on Twitter at glft.co/GameloftonTwitter or like us on Facebook at facebook.com/Gameloft to get more info about all our upcoming titles.
Check out our videos and game trailers on www.youtube.com/Gameloft
Discover our blog at glft.co/Gameloft_Official_Blog for the inside scoop on everything Gameloft.
This app allows you to purchase virtual items within the app and may contain third party advertisements that may redirect you to a third party site.
Privacy Policy : www.gameloft.com/privacy-notice/
Terms of Use : www.gameloft.com/conditions/
End User License Agreement : www.gameloft.com/eula/
Additional Information :
Compatible with iPhone, iPad, and iPod touch.
Requires iOS 9.0 or later.
Size 1.6 GB
User Reviews :
The game has great graphics and a good selection of licensed cars (which I will only play games with licensed vehicles) but the driving could be better. The first person view is great, but when driving, you have to turn way too early and brake way too early otherwise you hit the wall. I feel like the game makes it harder and less realistic when turning and braking. I hit the wall ALL the time, and it's not because I'm bad at the game, it's that the game is TOO sensitive! I also have upgraded an Alfa Romeo Mito and the game said it was green, (which means your car is upgraded sufficiently to be competitive in that race) yet I got passed up like I was sitting still! The game also slows you down WAY TOO MUCH when you hit something. The last thing is something that I absolutely HATE. PLEASE PLEASE PLEASE make a feature so that you can sell one of your cars and make a little bit of money off of it. (Not as much as we paid for it so that way the car goes down in value and people can't buy a car and then sell it and not lose any money for it.) Also, there used to be a Tesla Model S in this game, but I don't see it ANYWHERE in the car shopping area. I remember it used to be there, but now there's nothing that says Tesla as a car brand ANYWHERE. Thanks!
Get GT Racing 2 from App Store
What is your opinion about GT Racing 2
Get more free apps & games daily
Subscribe to our mailing list and get free apps & games daily to your email inbox.
Thank you for subscribing.
Something went wrong.