[Game] Gravity Rider Zero
 iphone games for free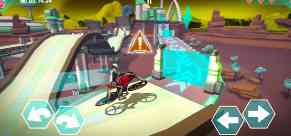 Game Description :
Here there are no upgrade parts, no difficulty spikes or races against overpowered vehicles: every track is perfectly balanced so you can always beat it right now, using your favorite ride.
Game Features :
MAKE YOUR WAY OVER OBSTACLES
In this bike balancing game, you will be climbing over obstacles, discovering new clever mechanics and trials to overcome in each level.
Giant ramps, lasers, spikes, or good old gravity will try to get in your way. No sweat though, your vehicle has the perfect speed to pass through – with a bit of finesse, you will be fine and not fall off.
DOZENS OF HI-TECH PROTOTYPES TO RIDE
Collect dozens of unique racing vehicles with futuristic designs. Unlock new bikes by completing tasks, beating challenges or breaking track records: there's always a new objective and a new reward to look forward to. From trials bikes to ATVs, WW2 era motorbikes to space rockets, they're all in there.
NO GRINDING
Here's a list of what you won't find in Gravity Rider Zero:
No overpriced upgrade parts
No grinding
No tickets
No time gates
No difficulty spikes
No artificial difficulty
No limited garage space.
WHAT YOU WANT, WHERE YOU WANT
You can unlock all the racing cars and bikes you want. You can dash on your moto, mmx buggy or quad whenever you want. You can speed with them on any track you want – their stats are always perfectly balanced for the race you're in. Yep, no secret ultimate cheat bike, no special wheels of doom – here, all motorcycles are good.
IT'S ALL YOU
The controls in Gravity Rider Zero are simple and precise. Accelerate and tilt your bike in the right places to pass over obstacles faster. Brake in time to avoid traps. Always tilt after a jump to touch the ground earlier and gain more traction. Brake before a jump to minimize your air time, try and try again.
Or, just focus on making sure you pass obstacles, don't crash and beat the level. Bike racing is a customizable experience: you decide how deep you want the mechanics to be.
FULL CAREER MODE
Enjoy a classic solo career progression system: you get enough lives to clear 3 stages and then move onto the next world. Each new world features a new gimmick, and you will see a planets' load of environments. That's not an image: you will literally travel from planet to planet to face the craziest tracks in the universe. Oh and of course, your vehicle stats will increase along the way: it's all balanced, but you will get faster.
COLLECT AND CUSTOMIZE
Admire and customize your vehicle collection. Give your race car a new paint job, give your motorbike a different color, or upgrade your kart with a neon lights trail. Even if your motorcycle is always perfectly tuned, that doesn't mean you cannot upgrade your style!
JUST CHILL
Gravity Rider Zero is all about two things: getting cool rides, and pure racing. That's how we do things here, in the career mode. We focus on what matters, and to heck with the fluff. You want to optimize your turns, race against the clock, get the best time? You can.
You want to take your time getting through creative levels? You can too.
Just enjoy the ride and pop a wheelie. 🙂
Got a question? Contact us at support[at]vividgames.com
By downloading the game you accept our End User License Agreement, Terms of Service and Privacy Policy: support.vividgames.com/policies
Additional Information :
Compatible with iPhone, iPad, and iPod touch.
Requires iOS 11.0 or later.
Size 78.2 MB
User Reviews :
One of the few good ones left
This is the only type of game I'm willing to download anymore. And I don't mean racing games. No ads unless you want bonuses or gems, simple to learn, hard to master with what seems like a decent curve in difficulty so far (level 16). Infinite tries, too. So no waiting for more "gas". Unfortunately they do have the gouging weekly subscription option, but it's easy to avoid and they're not overly pushy about it. I really like this game so far, I hope I get better at it

EDIT: I write a review for this fun game, and the next day there is a change that gives you one life per level. Each level has 3 sections that are getting much more difficult, and if you want a second chance or an option to have two hearts for 20 minutes, you need to watch an ad. It's a dumb change that literally ruined all of the fun I was having. It's going to sit in my library until they fix it, so I don't lose my progress. Otherwise it isn't worth the time.
Developer Response ,
Thank you for your time, and for the detailed review. We are looking forward to rising up your driving skills in Gravity Rider Zero 🙂
Get Gravity Rider Zero from App Store
What is your opinion about Gravity Rider Zero
Get more free apps & games daily
Subscribe to our mailing list and get free apps & games daily to your email inbox.
Thank you for subscribing.
Something went wrong.