(Game) Geostorm
 iphone games for free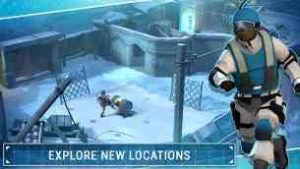 Game Description :
Play the official game of the movie now! Earth needs your help! Can you escape disaster and prevent catastrophic climate breakdown? Stay one step ahead to stay alive in this deadly, turn-based puzzle game.
A network of weather-controlling satellites meant to protect Earth has been sabotaged. Catastrophic weather events are destroying cities across the globe. Experience these disasters up close as you gather essential data to prevent a Geostorm while trying to escape the havoc in this immersive 3D puzzle game.
Game Features :
Three different characters in three different locations around the world.
Survive a tsunami, the deadly cold, and a lightning storm.
Experience immersive audio and atmospheric stylized 3D graphics.
Hours of challenging gameplay!
Escape with all the essential data and save mankind!
New location and character! Head to the ISS, experience the dangers of space and track down the sabotaged satellites.
Official game of the movie GEOSTORM, from the producer of Independence Day and Stargate. Starring Gerard Butler (300), Jim Sturgess (21), Abbie Cornish (Robocop) with Ed Harris (Westworld) and Andy Garcia (Ocean's Twelve)
Additional Information :
Compatible with iPhone, iPad, and iPod touch.
Requires iOS 8.0 or later.
Size 1.3 GB
User Reviews :
This game was extremely well done! First, I have to say the Dev's did a great job with either 'Buy Now' or 'watch ads'. It's a great price for a great game, & The only time you see ads is when you are ready to watch one in between levels, they DONT show up at the top or bottom & interfere with gameplay. Next the game itself is VERY well done! I liked 'Hitman' & then loved 'Lara Croft' even more since it was more advanced in its scenery & surroundings. This game is just as good, with the same amount of action, & made very well! I'm buying it to support the devs & in anticipation of future games! Thanks! Side note to some critics: it's ridiculous when people complain about having to pay for quality games, or they have to watch ads, or complain they "had to wait to play in between levels cause the devs are pushing you to purchase the game!" Of course they're pushing you to pay for it! Cause that's how they make their living! Stop complaining and enjoy a free game or pay for it!
Honestly this game is set up so nicely. I love that the game manages to be entertaining and free. The app also does not bombard your screen with ads. Instead, in the beginning of each new chapter there is a video ad to watch. I think this set up works and flows nicely for game play and still allows for the creators of this game to generate a profit from the players. Once I'm done with the entire story I won't play it all over again but that's not a major issue for me since I didn't have to pay for the game. All in all for a story based, puzzle game I love it.
Love the game, it's nice to find such a good quality game, especially from a phone. I love its difference from the other escape room games, I was looking for a change and happy to find one. I just wish I was told when the next country/state levels were going to appear, because at first it said to finish every level before it, but now it's saying coming soon. So I'm kind of confused as to what I'm supposed to be waiting for.
Get Geostorm from App Store
What is your opinion about Geostorm
Get more free apps & games daily
Subscribe to our mailing list and get free apps & games daily to your email inbox.
Thank you for subscribing.
Something went wrong.