(App) FordPass
 iphone apps download free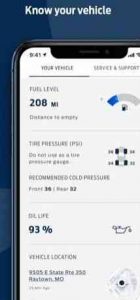 App Description :
FordPass has so many ways to make your ownership experience better. With the FordPass app you can:
Start, stop, lock, unlock, schedule starts, get vehicle health alerts and track fuel use for vehicles equipped with FordPass Connect**
Get vehicle details
Get FordPass Rewards™ to earn and redeem points for many things you already do with us, including vehicle maintenance and new vehicle purchases**
Get roadside assistance
Schedule service**
Make secure payments with Ford Credit
Call or chat with helpful FordGuides
View how-to videos
Find gas stations, restaurants, parking± and more
App Features :
Not all features are available in all markets.
Remote features available on:
2017: Escape, F-150, Fusion
2018: EcoSport, Escape, Expedition, Explorer, F-15-, Fusion, Mustang
2019: Super Duty, EcosSport, Edge, Escape, Expedition, Explorer, F-150, Fusion, Mustang, Ranger, Transit Connect
2020: Ford Figo, Fusion, Mustang, Ranger, Shelby, Super Duty, EcoSport, Escape, Edge, Explorer, Expedition, F-150, Lobo, Super Duty, Transit Connect
The FordPass app may use tracking technologies like cookies and pixels that collect information identifiable to your device to let us know that you downloaded FordPass and about how you use its features. We use this information to better understand, customize and improve your FordPass experience, determine which features you use, develop new features and to manage our advertising.
Some tracking technologies on FordPass may allow third parties such as Facebook to collect or receive information from FordPass and other apps on your device to provide advertising services including helping us identify people like you that may be interested in our products and services and measuring the effectiveness of our ads. The technology may allow Facebook and other third parties to collect or receive this information even if you don't have a direct relationship them (for example, Facebook may receive information about your use of FordPass even if you don't have a Facebook account).
You may learn about how to opt-out of this kind of collection and use of information for your browser by visiting http://www.aboutads.info/choices, for your device by managing your settings, and for your social media accounts by managing your preferences in your account settings.
*FordPass Connect is an optional feature on select vehicles (SYNC Connect for 2017/2018 model year vehicles) and is required for certain remote features. Service on 2018 and prior model year vehicles includes a complimentary 5-year trial for remote features. Service for 2019 and later model year vehicles includes a complimentary 1-year trial for remote features. Excludes Wi-Fi hotspot, and starts with vehicle sales date (after which, fees apply). Connected service and related feature functionality is subject to compatible AT&T network availability. Evolving technology/cellular networks may affect functionality and availability, or continued provision of some features, prohibiting them from functioning. Certain restrictions, 3rd-party terms or message/data rates may apply.
Complimentary trial includes the following features:
remote start/stop/lock/unlock
scheduling a remote start
vehicle status
locating your vehicle where last parked
See your Dealer for complete trial details and other restrictions.
**At participating dealers
±Available in select cities
Additional Information :
Compatible with iPhone, iPad, and iPod touch.
Requires iOS 12.0 and watchOS 3.0 or later.
Size 324 MB
User Reviews :
Just bought a new Ford Escape and this app complements it perfectly. Works every time and I use it multiple times daily. No errors or issues Alexa at home integration works 100% of the time too. Remote start schedules work perfectly too. I do wish I could adjust heat/ac within the app. Maybe it's available on other vehicles and not my SEL trim level. We use Ford Pass to keep our vehicle running while we leave our Great Dane in the vehicle on warm and cold days. Auto climate control ensures it stays one temperature. Built in WiFi allows us to stream a multiple wireless cameras while it runs on auto start mode to monitor him while we are away from the vehicle. The one-touch button to add more run time to the remote start feature is slick. We take our dog everywhere so this is why we mention these features. We have a dog divider to keep him behind front seats, use child locks to keep him from opening back doors and FordPass locks out the ability for him to roll down windows. After starting FordPass we turn on the radio for him cause he's spoiled and then lock it with the app, add time to auto start and walk away. I also got a notification in FordPass for a sensor fault and alarm went off notification which I thought was great as well. The sensor fault was due to 6" of snow on vehicle and the alarm notification was due to me exiting vehicle after using FordPass to remote start the suv. Neat stuff.
Up until recently I would have given this app 5+ stars… it used to work perfectly every time. In the last month there have been "maintenance in progress" for days on end, depending on what guide you talk to, they don't know what to say except what is on their script. Once in a while you'll get someone who is actually knowledgeable and helpful. Or no one answers ( waited for 15 minutes before hanging up) , this in and of itself is unacceptable! Now in the last month it seems it takes forever for the app to load up, or it doesn't recognize your log in, or it takes forever to start or it doesn't start at all! I understand the need for maintenance and updates but this is getting ridiculous!! I'm very tech savvy and work as a sales consultant for Ford and I can tell you this is making us look bad especially when you tell your customer that it comes with remote start they can start from virtually anywhere. Now, they are upset because they miss their keyfob remote start because at least with that it was reliable. Customers are NOT happy about this. Get your act together because I know legitimately I know this is a great app when it works consistently! You want everyone to set up their FordPass account and start charging for the use the convenience of remote starting, locking, and unlocking, their vehicles but you can't even keep the app working or respond promptly when your app is down!
Get FordPass from App Store
What is your opinion about FordPass
Get more free apps & games daily
Subscribe to our mailing list and get free apps & games daily to your email inbox.
Thank you for subscribing.
Something went wrong.