(Game) Flippy Race
iphone games for free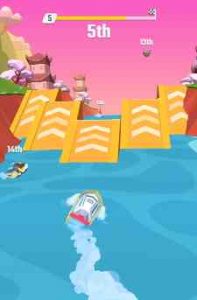 Game Description :
Compete in a massive high speed water race.
Game Features :
Move left and right to avoid obstacles and collect coins.
Spin the jetski in the air for a massive speed boost.
Avoid the obstacles and use ramps for that sweet air-time.
Complete lots of challenging missions to unlock new jet-skis and boats.
Are you ready for the ultimate racing experience?
Additional Information :
Compatible with iPhone, iPad, and iPod touch.
Requires iOS 9.0 or later.
Size 173.5 MB
User Reviews :
For the time that I have been playing this game, I have felt it was an overall pretty good game, sure that adds were a little annoying, but they weren't enough of a problem to affect my playing experience. But recently I have found something that made me very upset and feel a little bit scammed. There is this mode where you can play one on one with the computer and if you beat the computer 30 times, you win a crocodile avatar. But the thing is, when playing against the computer you play the crocodile, and while playing one of the features of the avatar seems to be that it can run right through all of the obstacles in the race. It may just me but, I assumed if I won the amount of times I had to, I would get the crocodile with that feature. I had just finished the 30 wins today, and I realized that it wasn't going through the obstacles, but rather bumping in to them like any other avatar, I felt cheated. I spent my gems, time and effort on trying to win this avatar and it didn't even have the feature I was actually playing for, and sure it looked cool, but I would not have spent all of the time I did on this game if I had known i would only be getting the appearance. But how could I have possibly known that, if the game made it look like what I was playing against, I would get.
I have nearly 1400 wins so obviously I love this game, however, I would like to suggest some improvements. 1) It doesn't take long before the Flip Boosts you're collecting coins to upgrade effectively tops out. I don't doubt that you technically are adding speed to your boost, but it's nearly impossible to tell. Plus nothing else changes – you don't get any higher or spin faster, either. After only a few levels it's no longer relevant to collect coins. I've played other games that give you a LOT of ways to spend your coins, and often it's too cluttered and confusing, but another couple of attributes would be nice. 2) Because I want to succeed, or need a certain outcome, I'm restricted to only a few specialized boats. Magneto, the Ducky, and the boost unicorn, for example. There are all those other super cool boats (that may even feel better to play) that I'm almost forced to ignore. How about earning/buying the upgrade itself and be allowed to assign it to whatever boat you want to use? (Maybe only one attribute at a time – no stacking) Just some thoughts. Thanks for the great game!
This game is good and all but.. I'm just done with the adds popping up in the middle of the game. I was annoyed with it and I just came back from exactly THAT happening when I was right behind the A.I bot in 1st place while flipping. An add came up and I clicked the x in the top right corner but that caused me to fail the flip. Another annoying thing about this game is that you have to be in first place to get onto a new track. Why not in the 1st-4th range? It's very irritating, especially when you get tired of trying to get first place just to get onto a new track. Neither does the game have an actual level count, so you can't go back to a different level you played. I don't see the point in the coins too… after a while you will notice that when you keep charging for the flip boost, there is no difference in it. So what's the point in trying to collect coins anymore? And the boats.. the boats, I was expecting them to have a better boost than the one before, but they are all the same! The A.I players are much faster than the boat you use, and are able to flip you over when you can't flip them over! The game has so much more little errors that screw up the game I can't even count! Overall, the game is not that good as it looks, with all those adds of this game on my screen looking so fun to play, I was convinced it would be decent, but no
Get Flippy Race from App Store
What is your opinion about Flippy Race
Get more free apps & games daily
Subscribe to our mailing list and get free apps & games daily to your email inbox.
Thank you for subscribing.
Something went wrong.