(Game) Fish Farm 2
free games for ipod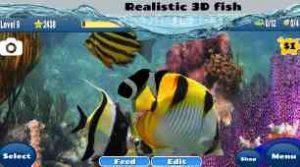 Game Description :
With dozens exotic 3D fish along with various decorations at your fingertips, the possibilities are limitless.
Buy, breed, and sell exotic freshwater or saltwater fish. Reaching higher levels in the app earns coins and access to more fish, backgrounds and aquarium decorations.
Feed your vibrantly colored fish, play with them – even annoy them by tapping the glass!
With Fish Farm 2, everything from the species of fish to the undersea home is yours to create!
Game Features :
200+ species of brilliantly colored, realistic 3D fish
Customize up to 20 aquariums with lots of decorative items and corals
Saltwater or freshwater aquariums
Crossbreed your fish for unlimited variations
Most realistic movements ever
Send and receive gifts
Acquire Skills and make the game easier to play
Play with your fish to earn additional coins
Zoom into tanks
Collect fish to earn rewards
Even play Fish Farm 2 offline
Additional Information :
Compatible with iPhone, iPad, and iPod touch.
Requires iOS 9.0 or later.
Size 58.1 MB
User Review :
Fish farm to is the best game ever my brother recommended it to me and said I would love it. So I downloaded it, and he was right i loved it. It is a free game that has a mini game to. In the mini game you are in an ocean dodging thing like snorkels ,bottles, bubbles, fishing hooks, and more plus you get to collect coins but you can only use every fish you have once a day in the mini game. In fish farm 2 you get to cross breed buy new backgrounds, fish, sand , and decorations like seaweed , plants ,bubblers, and rocks. You can buy add on's like jelly fish add on's which are only $ 0.99. You can also upgrade your tanks to fit more fish. I would definitely recommend this game to anyone who loves or has an obsession with fish.
Breeding the fish is whats really fun in this app, plus the graphics are well done. There are a few glitches with jellyfish merging and egg overlapping but not a big deal. At first it is annoying to get coin but I was able to get what I wanted with out spending additional money and it is fun to play my new fish for coin. I did get the jelly fish and it was defiantly worth the .99 cents. I also got the coin exchange, I didn't have to but it made the game move faster for me. This is a really engaging game and like to have it on when I'm not playing as a screensaver.
Here is my wish list to improve the experience of this app
1. More verity of creatures I would pay extra for them like the jellyfish.
2. Moving plants and more decor items plus why limit how much can go in the tank make that up to the player.
3. Have different sized fish and back ground fish or creatures.
4. 360 tank with zoom in.
I started building an aquarium on the first version, wonderful as it is already so adding the mixed breeding, crisper images and is priced better now for extras; so now I keep both apps on all my handhelds….great stuff!

Another perk with Fish Farm 2 if you'll notice when swimming the fish no longer swim "through" other fish and instead the fish will now bump heads or decorations! Nice!

I am not ashamed to admit I play this game at least twice a day and it has become my favorite game/app!
Get Fish Farm 2 from App Store
What is your opinion about Fish Farm 2
Get more free apps & games daily
Subscribe to our mailing list and get free apps & games daily to your email inbox.
Thank you for subscribing.
Something went wrong.
Summary
Reviewer
Review Date
Reviewed Item
Author Rating