(Game) Earn to Die
iphone games for free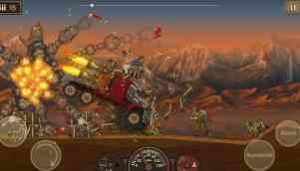 Game Description :
Drive your way through a zombie apocalypse!
Give Earn to Die a test drive today, and see why the hit online game that enjoyed OVER 150 MILLION PLAYS is bigger and better than ever on iPhone, iPod touch and iPad.
Game Features :
THE BEST OF THE ACTION, DRIVING AND UPGRADE GENRES
You're stranded in a desert surrounded by zombies. With only a run-down car and a small amount of cash at your disposal, your mission soon becomes clear – to drive through hordes of zombies in order to escape… alive!
Earn to Die sees you not only driving your way through hordes of zombies, but allows you to earn cash to upgrade, unlock and customise new vehicles. Is your vehicle not strong enough? Why not add a gun, or boosters, or even a spiked frame?
Earn to Die Lite lets you play through the first level of the Story Mode for free.
Once you've completed your test run don't miss out on the full version of Earn to Die so you can:
Smash your way through the rest of the STORY MODE, which sees you driving cross-country during a zombie apocalypse
Get access to all 8 VEHICLES , including a race-car, a truck and even a school bus!
UPGRADES GALORE! Just unlocking a vehicle isn't enough, customise each vehicle with a range of upgrades
Zombiesssssssssssss… Plenty more zombies to smash through… Be sure to introduce them to your car's front bumper
CHALLENGE YOUR FRIENDS for the best time in Championship Mode
Survived the zombie apocalypse? Smash through pumpkins and unlock ACHIEVEMENTS in the brand new HALLOWEEN MODE
So think you've got what it takes to survive the Zombie Apocalypse? Download and try your luck today.
Note: Some aspects shown in the screenshots may only be available on the full version of the game.
Additional Information :
Compatible with iPhone, iPad, and iPod touch.
Requires iOS 5.1.1 or later.
Size 57.9 MB
User Reviews :
I definitely encourage u to get this. The graphics are amazing and it is appropriate for kids. My kids are very fearful of games like this because of the monsters, but they aren't afraid of this one. My little girl enjoys this the most because she pretends she is saving the world. It helps keep her busy. Although I will say her twin brother is not as interested because he is still very much scared of zombies, spiders, snakes, etc. My little boy is mad that he can't have a pink car (his favorite color is pink) but he is just over reacting. My daughter who I mentioned before enjoys this a ton because it is creepy and she is a very tough girl that likes to act as a warrior.
I love the game but the only problem with it is that the full version costs real money and my mom and my grandma won't let me get the full version of the game and because of that I was just wondering if you guys could/ would make the full version of the game free!
I played earn to die 2 before and it's a good game. But this one is really making me mad because even on the first stage with the first car you get, even Maxed out you can't get past it. And I know it's not me playing the game wrong, so anyways you have to buy a new car and almost max it out to complete the first stage/level and so on. I would like this game a lot more, even if it was just like earn to die 2 by a little bit. But that's not the case. I know this game was made a while back, but the game developers could of at least added armor upgrades for all the vehicles. And in my opinion whenever you run over the zombies in this game it slows you down so much. Plus the developers should of added at least 1 checkpoint because the gas runs out a little too fast which is another problem.
Get Earn to Die from App Store
What is your opinion about Earn to Die
Get more free apps & games daily
Subscribe to our mailing list and get free apps & games daily to your email inbox.
Thank you for subscribing.
Something went wrong.