(Game) Dubai Drift 2
iphone games for free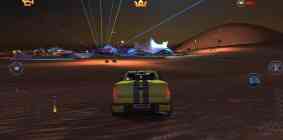 Game Description :
The ultimate drifting game has just crossed 10 million downloads !!
Game Features :
DUBAI DRIFT JUST GOT HULKED UP!! Dubai Drift 2 with more features, more social, more personalized. Can we add more? HELL YEAH!!!
GARAGE OVERHAULED:
Step inside the completely new, bigger and better garage. Dubai Drift 2 has completely overhauled UI for the game, with new items added to the garage.
DRIFTING CLUB:
Whats more epic than fighting alone? Two words, Drifting Clubs. Gang up and fight with other clubs.
Own a club and create your club of unbeaten drifters. And that's not it, practice drifting with your club members.
Get rewarded for being the best club, owner gets premium rewards.
SOCIAL:
Discuss your latest strategy with your club members. Don't just stop there, chat with rest of the world in the global chat as well.
IN CAR CAMERA:
Now you can see the interior of the cars. Play as you would in the real life.
AWESOME FX AND MASKS:
Make every cone collection into a show stopping special effect, with explosions, shatters etc. Now, you will never have to look generic anymore.
Wear crazy masks to make the drifting more personal. Let everyone know who they are drifting against.
MORE FREE STUFF:
Get Free Cars and Free NOS
NUMBER PLATES:
Added Turkey, Korea, Jordan, Thailand, California, New York, Texas, Florida,Alberta,British Columbia,Quebec,Ontario,Outback Australia,Western Australia,Victoria,Queensland
CLASH ONLINE
Take the thrill online by challenging your friends over the internet. Non-stop online action without ever having to wait for players to join you. Upto 4 cars in the arena.
CROSS PLATFORM
Now your friends can't make any excuses for not having the game in the same platform. Clash and smash cross platform!
Dubai Drift. 2
www.facebook.com/DubaiDriftGame
www.zerofour.ae
twitter.com/DubaiDriftGame
plus.google.com/u/1/+ZeroFouruae/posts
vine.co/u/1146922826813591552
instagram.com/dubaidrift
For support please contact:
info[at]zerofour.ae
Additional Information :
Compatible with iPhone, iPad, and iPod touch.
Requires iOS 8.0 or later.
Size 1.4 GB
User Reviews :
This is a great game with great real cars. Liberty walk, Fab design, and the incredible 918 Lille nissan Patrol. I freakin love it!! But I don't just want to spend $30 on one car, the 918 killer. Better of watching 5000 vids than paying money. I think that all cars should have the option of sharing the game and watching vids, besides just paying crazy money. The game is great, Physics excellent, just amazing! But please I say, make all cars possible to get without paying (ESPECIALLY THAT 918 KILLER. Possible by watching 5000 vids? Please??)Also is it possible to free roam online and not hit cones all the time. I would just downright love that as much as getting the cars a better way 🙂
Thanks for listening!
P.s. I just would like to add on what I said by telling you guys that you should totally make a Facebook login option. Or a Dubai drift account option so I can have all of my cars saved on different electronic devices. I know there is a log on to Game Center but how about adding one of those as well? 😉 thanks again!
Developer Response

,

we will add more cars to sharing option soon. thank you
I've been playing this game since it came out and I knew it would be around for years. The handling and drift dynamics are fantastic it is the best car game in store. Featuring pvp cone drifting battles, free roam 6 player lobbies, and solo modes. The starting car selection is on point with a few different paints, decals, tire smoke, driver outfit colors, and helmets. Definitely worth downloading!
Also you should add a Charlotte, North Carolina license plate. A way to keep up with club win/loss stats and definitely more in game rewards for lone rangers and club members not just the owner like (tire smoke,nos, and even a club member car reward)
[33ffbd]ℵMellow ※ Hypedℵ
••JDM DRIFT••
Developer Response

,

spoken like a true drifter, North Carolina plates coming in the next update!!
Get Dubai Drift 2 from App Store
What is your opinion about Dubai Drift 2
Get more free apps & games daily
Subscribe to our mailing list and get free apps & games daily to your email inbox.
Thank you for subscribing.
Something went wrong.