(Game) Driving School
free games for iphone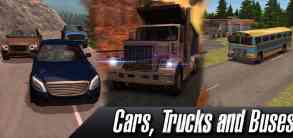 Game Description :
DrivingSchool 2016 is the latest simulation game where you can learn to drive different kind of vehicles: cars, trucks and buses.
DrivingSchool 2016 will allow you to play across many environments: cities, country roads, highways, deserts, mountains etc…
Now you can drive with a manual transmission, with clutch and stick shift!
Play with your friends in a free ride multiplayer mode!
More than 50 levels with different driving situations are waiting for you. Show off your driving skills, get your driving license now! Play DrivingSchool 2016!
Game Features :
More than 10 detailed maps
Smooth and realistic car handling
Different licenses to take, Car, Bus and Truck
More than 50 challenging levels
Free Ride mode
Multiplayer mode
Detailed vehicle interiors
Realistic damage system
Learn to drive a manual with clutch and stick shift
Tilt steering, buttons and touch steering wheel
Online Leaderboards and Achievements
Real engine sounds
Realistic weather conditions
Request new maps and vehicles on our social media pages!
Additional Information :
Compatible with iPhone, iPad, and iPod touch.
Requires iOS 8.0 or later.
Size 305.3 MB
User Reviews :
Ok so I see some of u guys don't know how to get coins ok there will be a present on top next to the coins u click that then u click watch add for 5 coins and then u keep doing it until u get enough coins but I do have to say that there should be a better way to get coins but anyway that's how u do it try this ok so every time u do the driving test u get 10coins and and the other driving maps or driving tests u get 5 coins and that way u can have more coins or u could use the XP's as a coin collector to just think about it
I am a girl and most girls aren't to into cars but this game is AMAZING, but the mission things are a little testy like if you go 1 mi over the speed limit they take away like half of the XP that you earned during the mission I mean in real life if you go 5 mi over the speed limit your not gonna get a ticket and in this game if you go 1/2 mi over speed limit UR DEAD! Another mistake of theirs is when you have to stop at a stop light that in real life you look at the one across the street not at the one right in front of you… Anyways great game the missions are a little fun I like that you can play with other players (besides sometimes how they talk) and have races and I like the cars that you have and that on the free run your not time from one place to another that it's LITERALLY a FREE run maybe the cars a little on the pricy side and the graphics OH MY GOODNESS they are SOOOOOOO OUTA THIS WORLD you have real places such as Arizona and Seattle places that you don't normally have on car games. Sorry I'm only giving 4 stars because of missions but I would TOTALY give you 5 star if you fix that! Thanks!!!
It's a good game overall but it has more cons then pros. When you pause the game sometimes it'll freeze the game and you have to restart the career all over again. Honestly annoying. And then other cars don't have to follow the laws you have to follow. So a lot of the times you'll crash and it's not your fault but they take points off on you. And then some of the night modes are too dark to be able to see pedestrians crossing until you're right up on it. And I'll already be half way through the pedestrian crossing and a pedestrian literally walk into my vehicle and die. So they died from walking into my vehicle ? Also sometimes when you're sitting at a red light and you have some other vehicles in front of you they stay there even after the light turns green. This app also drains your battery. If they improved the game it'd be so much better and more fun to play.
Get Driving School from App Store
What is your opinion about Driving School
Get more free apps & games daily
Subscribe to our mailing list and get free apps & games daily to your email inbox.
Thank you for subscribing.
Something went wrong.