(Game) Driving Academy 2
iphone games for free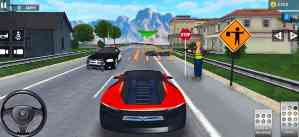 Game Description :
Following the all times hit "Driving Academy 2020 Simulator", we are proud to present:
Driving Academy 2: Car Games
Thought it couldn't possibly become any better? TRY AGAIN.
More car options, even better driving simulator, extreme weather experiences, and more accurate real-life physics!
NEW!!! – Multiplayer mode: respect the road rules and keep your car undamaged while racing against LIVE OPPONENTS!
Master your driving and parking skills without having to go to an actual driving school! Pick your car, receive your mission and don't forget to follow the road signs. Don't take the wrong turns, follow the signals, and wear your seat belt! After playing this game, there is no chance you won't become the best driver in the world!
Take your driving skills to the next level.
DOWNLOAD Driving Academy 2: Car Games NOW, free!
Game Features :
Ultimate driving simulator experience
Real world driving experience in a city with Slopes, Draw bridges, Light rails, Frosted heaves, Fog Areas, Fire lanes, Bike lanes and many more…
50 unique road signs to learn
140+ levels to play, including the Academy, Night Drive & Extreme driving modes
Free Drive to earn extra coins
3 different camera views
Realistic driving mechanics
75+ different cars to drive
Realistic car engine sounds
Customize your cars with cool Decals, Spoilers, Rims, and Neon Lights.
NEW!!! Multiplayer racing mode
Now available in 17 languages – English, Chinese ( Simplified), Chinese ( Traditional), Turkish, Swedish, Norwegian, Vietnamese, Finnish, Japanese, French, Italian, German, Spanish, Russian, Portuguese, Indonesian and Turkish!
Don't wait, unbelievable possibilities are just a click away! DOWNLOAD Driving Academy 2: Car Games NOW and start driving!
About Games2win:
Games2Win is a fun company that believes in creating amazing and enjoyable games for all ages. We have over 800+ proprietary games that are available both online and on mobile. Some of our smash hit games are Parking Frenzy 2.0: Drive&Park, Driving School Car Simulator, Fashion Diva, Power Cricket T20 and Driving Academy 2020 Simulator. Currently, our company boasts of more than 220+ million app downloads and 13 million gamers a month. And this is just the beginning!
VISIT US: games2win.com
LIKE US: facebook.com/Games2win
FOLLOW US: twitter.com/Games2win
Contact us at mobile[at]games2win.com for any problems you may have with Driving Academy 2: Car Games
Privacy Policy: www.games2win.com/corporate/privacy-policy.asp
Additional Information :
Compatible with iPhone, iPad, and iPod touch.
Requires iOS 9.0 or later.
Size 586.5 MB
User Reviews :
There are a few bad things about this game and that made the other one better and overall this one is more realistic but the first one is better at somethings. It is hard to understand because like, first of all, this game does not make you have to use our turn lights on this game which makes no sense. It does not make sense that you don't have to make a complete stop for yield. It also does not make sense to why we have to park on the road and not any parking spots. It makes no sense to why this game does not make you lose money when the seatbelt is not on or to why the engine is not running. This game should be required to turn the brights on at nighttime take away cash if used in the daytime. This game could also use some improvements. This game could really use snow mode and not only daytime and nighttime for free drive. Snow Mode should be one of the level selections just like nighttime. This game could use more traffic signs like Watch Out For Snow and Ice, Wildlife Crossing, Handicap Parking, One Way Sign, No Parking Zone, Dead End Sign, Do Not Enter, Do Not Pass, No Trucks Sign. If this game could add all of this stuff players would play more often and more people would consider downloading it.
Developer Response ,
Hi, Thanks for suggesting improvements in the game. We've shared your ideas with our Developer team & we'll surely try working on them. Reviews like this really help us a lot in improving the game. Thank you
Get Driving Academy 2 from App Store
What is your opinion about Driving Academy 2
Get more free apps & games daily
Subscribe to our mailing list and get free apps & games daily to your email inbox.
Thank you for subscribing.
Something went wrong.