(Game) Drive Ahead Sports
iphone games download free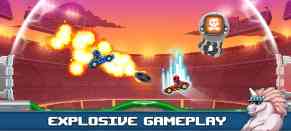 Game Description :
Cars! Sports! Explosions! Become the star of the playfield! Will you be number 1?!
Drive Ahead! Sports takes the original Drive Ahead! craziness to the next level with competitive sports, unique characters and exclusive outfits.
Game Features :
Play against your friends
Challenge friends or family members to crazy matches in local multiplayer mode.
Who knew mom was such a technician on the field!?
Climb the seasonal tournament ladder
Compete in the tournaments to unlock exclusive, limited time rewards. Seasons will be over before you know it, so better get to it!
Win epic rewards
Keep unlocking new and unique skins and make the competition green with envy.
Fashionista-on-wheels, anyone?
Master all the different sports
Ace at american football? Breathtaking at basketball? Incredible at ice hockey? Whatever your forte may be, we got you covered in multiple game modes. Play on your own or with your friends!
Enjoying Drive Ahead! Sports as it is or feel something needs to be improved? Drop our team a line or review and let us hear how you're enjoying Drive Ahead! Sports!
You can email us at driveaheadsports [at] dodreams [dot] com. Here is our Privacy Policy: dodreams.com/pdf/dodreams_policy.pdf.
Additional Information :
Compatible with iPhone, iPad, and iPod touch.
Requires iOS 9.0 or later.
Size 377 MB
User Reviews :
Soccer and cars go together like peanut butter and chocolate—amazingly. Drive Ahead! Sports brings this combo of motorized footie mayhem to iPhone and iPad. The 2D retro-flavored visuals make us swoon with nostalgia, and the frantic back-and-forth matches are absolutely hilarious—especially when we're a ninja biker taking on a convertible-driving unicorn. Goooooal!
Edit- I changed my rating to 4 stars because it is obvious that the devs are making attempts to listen to feedback and the game really is a lot of fun. I will re-install and see if the update helped with the ticket situation. Original- I love the concept of this game and thoroughly enjoyed the first one as well. It is definitely a game I could find myself playing for hours at a time but unfortunately I uninstalled this game due to the ticket system implemented. I can only advance one or two levels at a time and then I have to wait for more tickets, so after around 10 minutes I find myself closing the game again until the next day. With the abundance of games out there that allow you to play as many times as you want I just can't see a good reason to let this take up storage on my device. I'd even be willing to pay for the game itself so long as the ticket system was removed. Again, this game is awesome, but is a little ruined for me by the use of tickets.
Developer Response

,

We made some adjustments to the tickets last update, but we will continue polishing the new version. We appreciate your feedback!
I wouldn't say it's better than the regular Drive Ahead. But it's equal, and the regular one is pretty good. This one has more glitches. This version definitely has much more variety. Also it has more options like 2v2. That's fun.
I dislike the ticket system. Tickets should come faster (we can't even see the exact amount of time it takes). The game isn't pay2win, however, the whole upgrade thing leans it towards that a bit. One weird GLITCH I found (which wasn't really in the game) was on the App Store it says there's an in app purchase (classic character pack) but I can't read the description or click on it or anything. I wouldn't want to pay for something that I don't know what it does. Updates: – new GLITCH ever since I bought the starter pack, there's been this gray square on the opposite side of the 1/2p square. When you tap it it makes a noise but does nothing. MAJOR GLITCH: this glitch brought the rating down. In the game right when the match was about to be sudden death, I scored a goal. Then the floating ball thing just froze! Please watch this video.
Overall the game isn't bad, it just needs a few tweaks, more content and tons of bug fixes
Developer Response

,

Thank you for your great feedback! We keep balancing the missions and tickets costs in future updates.
Get Drive Ahead Sports from App Store
What is your opinion about Drive Ahead Sports
Get more free apps & games daily
Subscribe to our mailing list and get free apps & games daily to your email inbox.
Thank you for subscribing.
Something went wrong.