(Game)  Drift legends
 iphone games for free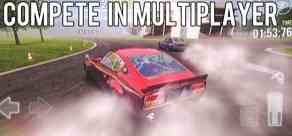 Game Description :
Drive legendary and exotic cars on different tracks, beat records, take part in different drift racing events, rise from Beginner to Professional League driver.
THE ULTIMATE DRIFT EXPERIENCE 9.500.000+ gamers World Wide
Game Features :
Drive 50+ powerful and exciting, detailed drifting cars
Drift on detailed tracks with different layouts
Customize your cars with exclusive paint jobs and rims
Enjoy realistic physics, simulating every aspect of car behaviour
Choose controls that suit you
Career mode allows you to get more experience
Complete achievements and unlock powerful secret cars
Every car behaves differently – feel the power and weight
Real engine sounds for every car
Turbocharger, gearbox and tires sounds
Realistic 3D graphics
If You're a Car Enthusiast, This Game is Definitely for You!
ATTENTION PLEASE
For COMFORTABLE gameplay we recommend iPhone 6S or higher!
Additional Information :
Compatible with iPhone, iPad, and iPod touch.
Requires iOS 9.1 or later.
Size 1 GB
User Reviews:
It's an awesome game, I really like how it has all these modes and different challenges. And the feeling of getting a pretty good drift is like a little adrenaline kicker. The graphics are beautiful and the effects are cool too. A wide variety of cars and good looking paint options. But this is where it kinda gets limited. Only a few selection of different wheels. The car itself you can't customize or change much of the body. And another thing that would be awesome is a day and night option, or day gradually becoming night, and then day. These are just suggestions, still a great game. Although it might be the developer's choice to only have a few selection of customizable options, it would be more interesting to have a little more control over the cars.
Everything about this game is perfect with the exception of the steering wheel controls. The reward system is perfect, you have to play and you do have to hone your skills but everything is very much obtainable. I know you guys recommended the buttons and they do work well but I love the steering controls in a drift game, these controls here are way to dramatic. Suggest slowing the steering rotation so that it's not as sharp and making it slightly more responsive to quick left- right, right- left movements. Overall you guys completely nailed it. Hope to see a few more upgrade options for the cars in the future too.
Really is a wonderful game to slide and rip on! Button controls are the way to go as suggested because all others are near impossible to execute with any flair. Love the wide selection of cars and types. A slight thing though is if you try to wall tap like in real life, it counts against you even though it is a show of skill. I think if you tap the wall and it doesn't change the angle of drift it shouldn't be punished just like in Formula Drift. Also soft body physics like ripping off bumpers would be super rad as well to keep the game from getting monotonous. All things considered, still my favorite racing game
When I launch the app on my iPhone 6, it crashes. I tried to restart my phone and try again but the game keep on crashing. I have played the game before the new update and it was fine but now I can't even play. Also, note to devs: please make the career mode easier as the game is very hard for me now. If you can make the game easier to play then it would be a lot of fun to play. Also, add more cars and customization. Definitely fix the physics a little bit. Make it so that you won't lose too much speed when you drift because the speed decrease fast when you drift so.. Otherwise the game is perfect!
Get Drift legends from App Store
What is your opinion about Drift legends
Get more free apps & games daily
Subscribe to our mailing list and get free apps & games daily to your email inbox.
Thank you for subscribing.
Something went wrong.