(Game) Drag Racing Classic
iphone games for free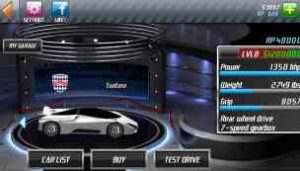 Game Description :
Drag Racing is the most addictive, nitro fuelled racing game for your iPhone and iPad! Ranked the #1 Racing app with over 100 million players worldwide!
Drive 50+ real licensed cars from the world's hottest car manufacturers including BMW, Dodge, Honda, Nissan, McLaren, Pagani and the officially licensed 1200 bhp Hennessey Venom GT™
Challenge other players online: race 1 on 1, drive your opponent's car or participate in real-time 10-player races in Pro League.
Game Features :
LOTS OF CARS:
Do you dream about seeing 1000+ HP exotics pushed to the limit on a drag strip? Would you pick an iconic Skyline GT-R, a classic 69′ Mustang, or a brand new BMW M4 as your ultimate driving machine? Buy your dream car, install performance upgrades and show your skills in 1/4 or 1/2 mile races
UNLIMITED DEPTH:
Do you think racing in a straight line is easy? Try to find the right balance between power and grip while staying in your class. Tune your car and accelerate your way to victory, Add nitrous oxide for more fun, but don't hit the button too early! Go deeper and adjust gear ratios to shave off precious milliseconds through 10 levels of cars and race categories.
COMPETITIVE MULTIPLAYER:
Racing on your own may be fun enough, but the ultimate challenge is in the "Online" section. Go head-to-head against your friends or random racers, beat them while driving their own cars, or race against 9 players at once in real-time competitions. Join a team to exchange tunes, discuss strategy and share your achievements.
CASHPLAY TOURNAMENTS
Pit your Drag Racing skills against other players today and win your CashPlay real money bonus with potential winnings ranging from $0.40 to $10. Competition is fierce, but our unique skill matching algorithm ensures that players are pitted against others of similar ability.
For more information read the Drag Racing Cashplay guide here cashplay.co/drag-racing-cash-tournaments-walk-through-guide/ for more details.
AWESOME COMMUNITY
It's all about the players! Connect with other car game fanatics and enjoy Drag Racing together:
Drag Racing Website: dragracing.creative-mobile.com
Facebook: www.facebook.com/DragRacingGame
Twitter: twitter.com/DragRacingGame
Instagram: instagram.com/dragracinggame
TROUBLESHOOTING:
If the game doesn't start up, runs slowly or crashes, please get in touch and we'll do our best to help.
If you have any questions, make sure you check out our FAQ at dragracing.creative-mobile.com/faq/
…or use one of the two ways to contact us through our Support system: support.creative-mobile.com/ or via e-mail at support[at]creative-mobile.com
Additional Information :
Compatible with iPhone, iPad, and iPod touch.
Requires iOS 6.0 or later.
Size 345.2 MB
User Reviews :
Hi guys I'm tom appreciation for apps I'm on playing for 13 years. This game is A great dragracing game it's a hidden gem Thanks for honoring that purchased I made a while back it was the infinite rep points Package. I noticed the in app purchase packages I don't see one like that no more. thanks for remembering me about that. I've been proud customer for 13 years I been playing on apps and on your game off and on for a while now. Oh congratulations creative mobile on making nitro nation so successful. You're the best app developers out there for Drag Racing over natural motion I think.
A long time ago, probably 6 or 7 years ago, I played this game addictively. I recently started playing again and I've noticed a few bugs. Firstly in the pro league I am rank 3000 in the lvl 6 car slot. Now I'm not sure if they changed it but shouldn't I have a few stars? I remember them giving you your first star when you passes 1500 so surly I should have at least 1 unless of course they changed it which makes no sense as that was the only reason to play in the pro league. Secondly and much more seriously is the inability to play "bet and race." For whatever reason I cannot click that option to race. When I do it immediately crashes the game. This is a huge problem because that is the best source of RP and with out it it is taking a long time to upgrade my cars. Besides that it's a good game although I miss the days of second gear launching and the sound they had years ago was much more appealing.
Get Drag Racing Classic from App Store
What is your opinion about Drag Racing Classic
Get more free apps & games daily
Subscribe to our mailing list and get free apps & games daily to your email inbox.
Thank you for subscribing.
Something went wrong.