(Game) Door Slammers
iphone games download free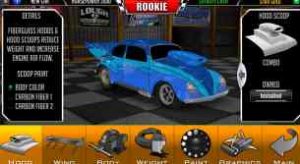 Game Description :
Heat up your tires with long smokey burnouts and when the green light drops launch full throttle with your wheels in the air! Push your skills to the limit rapidly accelerating to over 200 mph all the while doing your best to keep from smoking the tires or blowing your engine on a tricky racing surface.
Pray your engine and chassis tuning are just right as you try to be the first to pilot across the finish line… but don't forget to pull the chute as you stand on the brakes before flying off the end of the track and into the sand traps!
Game Features :
Hone your reaction and ET as you strive for the perfect run in the bracket classes or drive on the edge of sanity in the heads up and grudge racing events.
Race online with your friends or around the world in live multiplayer action.
AMAZING 3D GRAPHICS
Smokey Burnouts, Header Flames, Nitrous Purges, Wheels Up Launches, Functional Parachute, Gear Shifting, Custom Paint, Hood Scoop, Wings and Wheelie Bars.
HEAD TO HEAD MULTIPLAYER RACING
Bracket Racing, Heads Up, Pro Mod and Index Racing.
ENGINE CUSTOMIZATION
Small Block, Big Block, Mountain Motor, Carburetor, Fuel Injection, Tunnel Ram, Turbo, Nitrous, Blower and Fire Breathing Fender Exit Exhaust.
CHASSIS CUSTOMIZATION
Hood Scoops, Custom Wheels, Paint, Lettering, Transmission, Wings, Brakes, Parachute, Wheelie Bars, Suspension.
Additional Information :
Compatible with iPhone, iPad, and iPod touch.
Requires iOS 8.1 or later.
Size 195.7 MB
User Reviews :
I was playing is was HAPPY took 5 hours to make enough money to buy a PRO MOD so I got off of the races went to the store AND I looked at the CAMRO PRO MOD right before the last race I did to get the money so I bought the wrong car so I thought I could sell it and get my money back and get the camaro but it gave me 85% lower money then I payed for it so I got mad and almost deleted the game but I wrote this rewiew and guess I'm going to play for 5 more hours and get enough money BUT GREAT GAME DEVS
Every 100k you can convert it into gold instead of having to buy it with real money, also add new cars into the first and second door slammers games, that'll make your game skyrocket in popularity, just a though 🙂 other wise fantastic game! And MAKE A THIRD ONE PLEASE!!!, plus let there be a 1 mile distance choice please! I never get to see my cars hit top speed before I win the race, and a story mode! Please and thank you!
To the developers I would rate 5 stars if you changed these things please make the upgrades and pro mods/ nitrous cars cheaper, make it to where you can watch ads to get gold and cash it could even be 2 gold per ad, or 1,000 cash per ad Change these things and I will rate higher
Get Door Slammers from App Store
What is your opinion about Door Slammers
Get more free apps & games daily
Subscribe to our mailing list and get free apps & games daily to your email inbox.
Thank you for subscribing.
Something went wrong.