(Game) Door Slammers 2 Drag Racing
 free games for iphone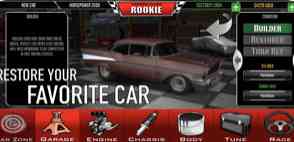 Game Description :
Heat up your tires with long smokey burnouts and when the green light drops launch full throttle with your wheels in the air! Push your skills to the limit rapidly accelerating to over 200 mph all the while doing your best to keep from smoking the tires or blowing your engine on a tricky racing surface.
Pray your engine and chassis tuning are just right as you try to be the first to pilot across the finish line… but don't forget to pull the chute as you stand on the brakes before flying off the end of the track and into the sand traps!
Game Features :
Hone your reaction and ET as you strive for the perfect run in the bracket classes or drive on the edge of sanity in the heads up and grudge racing events.
Race online with your friends or around the world in live multiplayer action. Work your way through the rankings and try to get into the daily top 10.
AMAZING 3D GRAPHICS
Smokey Burnouts, Header Flames, Nitrous Purges, Wheels Up Launches, Functional Parachute, Gear Shifting, Custom Paint, Hood Scoop, Wings and Wheelie Bars.
HEAD TO HEAD MULTIPLAYER RACING
Bracket Racing, Heads Up Outlaw and Drag Radial.
ENGINE CUSTOMIZATION
Small Block, Big Block, Mountain Motor, Carburetor, Fuel Injection, Tunnel Ram, Turbo, Nitrous, Blower and Fire Breathing Fender Exit Exhaust.
CHASSIS CUSTOMIZATION
Hood Scoops, Custom Wheels, Paint, Lettering, Transmission, Wings, Brakes, Parachute, Wheelie Bars, Suspension.
Additional information :
Compatible with iPhone, iPad, and iPod touch.
Requires iOS 9.0 or later.
Size 345.4 MB
User Reviews :
It's the best drag racing game I have come across for any platform in recent times. Not nearly as great as Burnout PCE on the old desktop, but better than the generic games that emphasize sports cars over actually drag machines. Doesn't seem to have many glitches other than occasionally putting both cars in the same lane in multiplayer action (this can be fixed by backing out of the burnout box, then changing to the other lane if the opponent has patience). The reason it doesn't get 5 stars is because the fastest cars can only be built by using real money for gold in game used to buy forced induction. It's not a problem though since there's still a lot of people who run without it which makes winning heads up races with nitrous possible. My favorite though is the 8.50 index class. Open bracket is also good. Another bad thing is there is a some lag between you and the opponent. Even if the race is only won by a few thousandths your opponent isn't right next to you. Makes it difficult to drive the stripe during index, and bracket. I do recommend it for those long winters of off time between real racing seasons.
I love the game don't get me wrong I've spent countless hours and money (on gold) but here are a few issues I see. In the "Heads Up" my thought is whoever gets to the finish line first is the winner, but that's not the case. If the other guy runs a faster time he wins. To me that is not heads up racing it is whoever gets to the finish line first. Next I would like to see a few other options in the tuning category. I have pretty much all the same cars with all the same upgrades. Also I feel like some people have figured out glitches where they are running a 4 second 1/4 pass on nitrous, that just doesn't make it fun for the people that take their time to upgrade and tune there car to run a 6 second 1/4 mile pass. Maybe throw some newer style trucks in the mix (single cab short bed Chevy) that would be cool , maybe a dragster or funny car section would be awesome. Other than that awesome game please keep the updates coming. I was so excited when the real racers cars were put into the game.
Get Door Slammers 2 from App Store
What is your opinion about Door Slammers 2
Get more free apps & games daily
Subscribe to our mailing list and get free apps & games daily to your email inbox.
Thank you for subscribing.
Something went wrong.