(Game) Deep Loot
 iphone games download free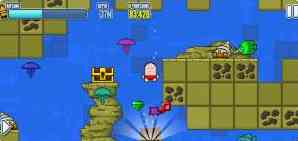 Game Description :
Swim, dig and fight your way through the ocean depths to discover lost ruins, plunder hidden treasures and earn lots of coins!
Use these coins to get bigger boats, unlock diving suits and upgrade your equipment as you attempt to complete missions and smash records in a quest to become the greatest Deep Loot diver of all time!
Game Features :
Five unique depths packed with secrets and surprises
250 unique pieces of collectable loot to be found
Dozens of suits & ships to unlock each with their own dive enhancing perks
Stunning original musical score featuring over 8 amazing tracks
A huge range of missions of achievements for those who like a challenge
TOP TIPS
Keep exploring! You'll automatically swim back to the boat once you run out of air
Creatures only move when you do so plan your routes and make the most of your air
Tap and hold whilst diving to bring up a handy tool tip
Check out your current missions at any time by pausing the game
Using keys on locked chests will save you lots of air from bashing
You can Use turbo boosts to reach the deepest depths almost instantly
SUPPORT INDIE DEVELOPMENT
Help support us in a quest to bring more fun, free and quirky games to people of all ages by picking up the Coin Doubler or special coin packs in the shop.
NOTICE TO PARENTS
This game features the ability to purchase optional content with real money. You can disable in-app purchases using the settings menu of your device. Links to social networking sites within this game are intended for users over the age of 13.
Additional Information :
Compatible with iPhone, iPad, and iPod touch.
Requires iOS 8.0 or later.
Size 90.6 MB
User Reviews :
I love this game, please keep addind content, so many of the games i loved as much as this one had almost no popularity so they often get abandoned, almost all the popular apps on the appstore arenvery dissapointing.
I ran into an error where the game crashes when finding the unlockable character Dan and once or twice my diver froze in place and would not respond to commands other than that it's a very good game and I would recommend it.
I used to play this game when I was little like 4-5 years ago and I downloaded it yesterday and I'm still loving the game this really is a good game even 2 of my sisters love this game I truly love it
You explore the sea for hidden treasure and add it to your collection. Keep going deeper in the sea and discover new locations, treasure and sea life. Fight off all kinds of fish. Enjoy the game.
All out the game is fun but when you start off to be honest it is just horrible. When have so little air space and have useless tools. And so you upgrade your tool so much times for it to be useful! Plus you have to get so much coins to have a good suit and actually get good stuff
Monster and Monster is on a roll! The two walking games were great, and now we get deep sea diving. Good graphics, good variety of treasures, enemies, and power ups. Fun to play!
Love the nautical theme, the pop culture references, the treasures and the locations. This is one of the best games I've played on iOS Don't be fooled by the price tag – this is game is amazing
For a game with the simplest of mechanics, it's really fun. The IAPs never feel forced and you can really "advance" on effort alone. There's so much to be explored and discovered, and the nods to pop culture icons (like the Delorean from Back to the Future, and the pinapple under the sea) are a nice touch. The only niggling problem is that–occasionally–you can get stuck in place for no reason at all, burning air as you do. And tapping on things is unclear. Sometimes, tapping on a crab will zap it, sometimes it will bring you close enough for it to hit you. Sometimes a fish blocking a chest gets zapped, sometimes it remotely unlocks a chest. It's an annoying thing, but never game-breaking! Worth a download all in all.
Get Deep Loot from App Store
What is your opinion about Deep Loot
Get more free apps & games daily
Subscribe to our mailing list and get free apps & games daily to your email inbox.
Thank you for subscribing.
Something went wrong.