(Game) Cube Escape The Cave
 free games for iphone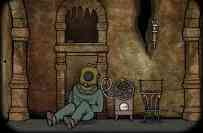 Game Description :
An old man is about to enter a mysterious Cave.
A familiar guest needs your help before you descend deeper and deeper into Rusty Lake.
Game Features :
Tap on the arrows to navigate inside the cube.
Interact with objects by tapping. Select found items in your inventory and tap somewhere on screen to use them.
Cube Escape: The Cave is the ninth episode of the Cube Escape series and is a continuation of the Rusty Lake story. We will unfold Rusty Lake mysteries one step at a time. So check RustyLake.com every day for new content and follow us: @rustylakecom
Additional Information :
Compatible with iPhone, iPad, and iPod touch.
Requires iOS 8.1 or later.
Size 69.6 MB
User Reviews :
Each cube escape game seems to get a little better: more interesting, more involved, more "Oh my!"… IMO, this one took it up a couple more notches with greater puzzle interaction, greater depth of story, greater length, and, of course, an extra helping of "I can't believe that just happened!". For me, it was insanely fun, and even though there were a couple things I didn't quite understand, I still managed to get through it without any help, so I'm feelin' like I'm 'on top of the cave'. To boot, the end of this one leaves you with an ominously creepy feeling about what's coming next. I can't imagine how they're going to top this one, but fortunately, I don't have to, cuz I'm getting ready to download the next one. I'm already savoring the anticipation
Incredibly well made. Although it's not my most favorite cube escape, this was still really up there on the list because of how well the game was made. I absolutely adored the additions of how you could interact with things. The graph bit where you had to find a point and travel there by changing the direction and moving forward was also a nice touch, along with the book and how you had to look at one thing and figure it out gradually. Very well made, I have no doubt paradox will be just as good if not better.
I am so happy that I found these games. They are far more in-depth, puzzling, challenging and overall superior to other "escape room" apps. The story is so interesting, the puzzles are amazing, and the games are just fantastic. I love the new "clues" feature in this one, and I definitely think that should be in all future Rusty Lake games. These are fantastic games for anyone who wants some really great puzzles. To the people at Rusty Lake, fantastic job. Keep doing what you're doing. Can't wait to see what comes next!
There are too many people giving this game low scores because they think there is a glitch preventing them from progressing. Trust me, these aren't glitches. I was stumped on a couple of the same things mentioned, but I stuck with it and realized I was missing something. This is an amazing series, and this episode is one of my favorites. So ignore the reviews claiming they can't finish because of what they believe are glitches and keep trying to figure out what you might be missing if you get stuck
Loads of fun, although a couple puzzles were really tricky to figure out. I ended up hit and miss, and still not sure what I did to get it! (Maps, especially) Loved the unusual mini games… directing fish was fun challenge. Quirky and a little gross. Still a great series of games. Have to keep checking out places that have been used before in the game, as new clues might be there. This one ended rather abruptly with the promise of to be continued. Hoping that comes out soon!
I've played all of these games in chronological order. The free ones are short, the chapters you have to pay for are much longer. They're worth purchasing. Do yourself a favor if you like creepy, interesting puzzle games. Buy and download all of the chapters, Google the chronological order of these games, and play them in order. I can't wait for more chapters to be released!
Get Cube Escape The Cave from App Store
What is your opinion about Cube Escape The Cave
Get more free apps & games daily
Subscribe to our mailing list and get free apps & games daily to your email inbox.
Thank you for subscribing.
Something went wrong.