(Game) CSR Classics
iphone games download free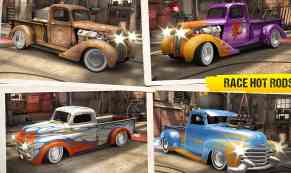 Game Description :
FROM THE MAKERS OF CSR RACING! Drag-strip legends from the last 60 years come to life in CSR Classics.
Game Features :
RACE OVER 50 OF THE GREATEST CARS EVER MADE including the Shelby Mustang GT500, Ford GT40, Plymouth Superbird and other classic models from BMW, Chevrolet, Dodge, Ford, Mercedes, Plymouth, Pontiac, Shelby and more!
RESTORE YOUR RIDE and transform your cars from rusty unloved shells into gorgeous icons of driving!
CLASH OF THE TITANS! – Cobra vs. Mercedes 300SL, Dodge Superbee vs. Chevrolet Camaro, Ford Mustang vs. Skyline GT-R!
OWN THE CITY THAT NEVER SLEEPS
Take on the gangs that own the city and face off against the toughest drivers out there. Have you got what it takes to own the streets?
CSR Classics is published by NaturalMotion Games.
THIS GAME IS NOT COMPATIBLE WITH THE 3rd or 4th GENERATION iPOD TOUCH, iPAD 1, AND iPHONE 3GS
CSR Classics is optimized for iPhone 6 and above, and iPad Air 2 and above.
CSR Classics is free to play, but it contains items that can be purchased for real money. You can toggle these purchases on/off in the "Restrictions" menu on your device.
Requires iOS 7.0 or later.
WHY NOT TRY CSR RACING 2 – The next chapter to the #1 drag racing series of all time has arrived!
itunes.apple.com/gb/app/csr-racing-2/id887947640
Terms of Service: www.zynga.com/legal/terms-of-service
Privacy Policy: www.zynga.com/privacy/policy
Additional Information :
Compatible with iPhone, iPad, and iPod touch.
Requires iOS 7.0 or later.
Size 1.1 GB
User Reviews :
NaturalMotion, maker of CSR Racing, delivers another excellent drag-racing experience with CSR Classics. Featuring a streamlined approach to this high-octane sport, CSR Classics is a fast, focused, and highly polished game that lets you collect, restore, and then race dozens of historic cars. Whether you play for just a few minutes a day or race for hours on end, the robust customization and reward system will keep you motivated, while jaw-dropping visuals and authentic engine roars ensure each race is a thrill.
This is the best classic car game out there along with the newer car version CSR 2. The only thing that could be improved in the CSR Classics is the upgrading of the car. If you could would you make it so you can change the engine and put blowers coming out of the hood. Bigger engines and more power. I think this would be better for the game because after you beat the game or playing the game you can still switch out engines and see which is faster. Also it would be really cool if you could make so when you take off, if you have enough power in your car, you pop a wheelie. I think this would make the game more exciting and cool for the car guys like me. It adds a little Fast and Furious taste to it. Finally, as some as the other game users have said, add more cars. Especially Dodge. I'm a Dodge guy myself. As one, I love playing games with that type of car. I actually have the 1969 Dodge Charger upgraded fully in this game. These are just some updates that I think would make the game better and have more people downloading it. I hope you can take them into consideration. Thanks for you time.
I love this game is so awesome and relisted and the prices are real like real life I love all the details that you create a man all the colors The privileges you get to do I mean it's so awesome I would rate this 1 billion stars if it was on this but it's not sadly but it's so cool I wish that CSR classic ours gets more updates and is rated number one game in the world or what not be and I really hope it improves mooring gets better even though it's already super awesome I hope it gets better and gets a lot of stuff rewarded to it I just want to give you guys a big thumbs up that's awesome you guys are probably the best game makers I've done I spend hours on my phone now it's so cool so make more games I mean it's so awesome make more I love them I'm not going to try to buy every single one but right now I'm's duck on CRS classic cars.
Get CSR Classics from App Store
What is your opinion about CSR Classics
Get more free apps & games daily
Subscribe to our mailing list and get free apps & games daily to your email inbox.
Thank you for subscribing.
Something went wrong.