(Game) Crazy Snowboard
iphone games for free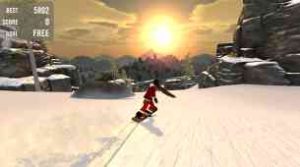 App Description :
28 new levels! 9 new dudes! 9 new boards! 8 new grabs!!
Download the #1 mobile snowboard game in the world with more than 15 million players – all new improved graphics and MFi game controller support!
Get ready for some wicked-cool snowboarding action on your iPhone!
App Features :
Crazy Snowboard Free has something for everyone:
Game Center Awards and Leaderboards
In-air trick system: spin, flip and grab!
30 missions
4 endless free-ride tracks
13 riders to unlock
13 boards to unlock
16 touch-activated in-air tricks to unlock
Grinding: rails, boxes, logs, candycanes!
Smashable obstacles: zombies, snowmen, elves!
Intuitive controls – really feels like you are boarding!
Quick pick-up-and-play
Hours of challenging game-play
MFi game controllers
"WiFi Remote" control
Waiting for a bus? Stuck in line? No matter where you are, now you can hit the slopes! Just fire up Crazy Snowboard, tilt your device left and right to steer and you're there!
Ready for some massive airs? Just touch the screen (anywhere) hold down and you'll crouch ready to spring. Release your touch on top of a ramp and you'll get a huge boost. Then link your tricks together to increase your multiplier and score big.
How about some grinding? We've got rails, boxes, logs, candycanes (yes, candycanes!) all ready for your grinding pleasure. See how many you can link together to ramp up your bonus multiplier and boost your score.
Featuring Game Center so you can go head-to-head against your friends to see who is the Crazy Snowboard champion!
Check out apps.ezone.com for screenshots and game play videos.
Note: 'Crazy Snowboard Free' contains ads, if you would like an ad-free version check out 'Crazy Snowboard' or 'Crazy Snowboard Pro'.
Other Ezone.com games you may like: Diver Dash, Team Awesome, Diversion, Crazy Farming, Snow Spin, Turkey Blast: Reloaded, Scarecrow, and Galactic Gunner.
Additional Information :
Compatible with iPhone, iPad, and iPod touch.
Requires iOS 7.0 or later.
Size 102.8 MB
User Reviews :
Well done. Love using my iPhone as a remote control with the game on my iPad. Well worth a dollar to upgrade. If only this had some multiplayer functions I would pay $10 for it. Only thing is it it seems a little easy, you don't jump on rails but just run into them, works for me though as I'm usually the one desperately trying to pull off maneuvers and not having any fun.
This game is amazing. I found this game a long time ago and loved it I tried looking for it again a few years later and could not find it. Then after I got this iPad I looked at snowboard games and could not find this game after a few minutes scrolling through the games then I finally found this I was amazed and bought this game right away. This is a great game and if you are reading this, get the game!!!!!!
First of all I have reviewed many apps, but none like this one. Okay now that we are started let me say it is impossible on a snowboard to somehow get off your bindings act like superman then put them on again in 2 seconds. Okay soyou know now how I hate the tricks. Now on to the controls. I will take the trick controls first and the movement controls second. If a snowboard would be as easy as holding down a button for a really long time off a jump, would people snowboard? The answer ladies and gentlemen is NO. This game should have more realistic controls like using your fingers like your foots movement. Okay now for the movement controls. All snowboarders know that you turn heel side or toe side when you turn. You don't just magically move over without cathong an edge unless it's a halfpipe! Please next time get the controls right and lifelike. 1 star out of 5
Get Crazy Snowboard from App Store
What is your opinion about Crazy Snowboard
Get more free apps & games daily
Subscribe to our mailing list and get free apps & games daily to your email inbox.
Thank you for subscribing.
Something went wrong.