(Game) Crash of Cars
iphone games for free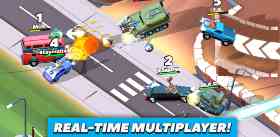 Game Description :
Welcome to Crash of Cars, a REAL-TIME MULTIPLAYER game where your goal is to collect as many crowns as possible before getting destroyed.
Use power-ups and smash into opponents to destroy them; then swoop in and take any crowns that they drop. Be careful though, the more crowns you collect, the bigger your bounty becomes – making you a bigger target for other players to destroy!
Can you climb the hourly leaderboards?
Game Features :
15+ Maps to enjoy REAL TIME Multiplayer battles
100+ unlockable cars across 4 different rarities (Common, Rare, Epic, Legendary)
30+ Skins to customise your cars with. Pepperoni Skin on the Camper Van is quite a tasty choice.
16 upgradable Power-Ups, including a flamethrower, cannon, trebuchet, and more.
Play with Friends feature. There's nothing more fun than destroying your friends 🙂
Mission System
Hourly Leaderboard and Game Center Support
Single Player mode also available
New Content Coming Soon!
From the publishers of Earn to Die. If you enjoy .io style online multiplayer games or fast-paced PVP action, be sure to download now!
By downloading, installing and playing this game you acknowledge you have read and understood the terms of our Privacy Policy. To opt-out of interest based advertising, please follow the steps outlined within the privacy policy. http://crashofcars.com/privacypolicy.php
Additional Information :
Compatible with iPhone, iPad, and iPod touch.
Requires iOS 9.0 or later.
Size 353.2 MB
User Reviews :
I love this game very much! So many cars, paint jobs, fusions, maps, and more. I just want to ask a question for a fusion car. If you know Clash Royale, you might know who it is. I'm asking if you can soon put the Legendary Sparky Card as a fusion Vehicle in the game soon. Maybe ask the Clash Royale creators a request for that.If they allow, first of all, I will be extremely happy, second, I'm thinking for the fusion cars to be a level two Tank, a level 4 Battering Ram, and soon a car that can shoot. These are recommendations, you don't have to use these exact if you are able to make Sparky. But the only thing I hope is that you are able to add Sparky in the game, somewhat like you added the Earn To Die Truck from the game Earn To Die. If you are able to add Sparky, thank you, if not, well, it's ok Thank You for reading if you did.P.S.: Sorry! Forgot the abilities! Again you don't have to use these because this is my recommendation. The first thing is for Sparky to have 7-8 bars of health, speed should be in between the Tank's and War Machine's, and for him to have a charged Electricity Shot. The first shot should be about 10 seconds and every other shot about 20 seconds after the first. The direct hit should do about 5 bars of damage and when another car is in the radius of the explosion, it could do 2-4 bars of damage. Again this is a recommendation. Thank you.
Hi! I've been playing this game since it came out two years ago, and I love! Of course, I have very little lab cars than all my friends who I got to download this game last year. Like, seriously, my friend has been playing this game a year less than me and has more cars. So, the topic, I want a new car, a magnet car, with a giant magnet on top. It can pick crowns in its general vicinity every, say, twenty seconds. It also or this could be its only power but when it kills someone you can automatically get half or all their crowns. This would be a legendary, with as much health as the pirate ship. Also, it's been a while since a new power up has been added. How about a invisibility cloak (that could be a car, too) or a growth/ shrinking thing, or an air strike, or a shield that you place that people just bounce off of except for you. Finally, please buff the homing missile. It's so easy to dodge and it does so little damage. Seriously. Thanks, not Doppler, I love you!
Amazing game and great graphics too awesome cars and great quality but there is some downfalls. First, There's a glitch with crown collecting because when I circled in a pool of crowns my numbers of crowns didn't increase. Second, I was at full health and when I hit one mine it exploded. Sooo plz fix that but overall amazing game 5 stars!!Latest Experience: If this is an online game, where's the report button for hackers and there's this guy named Go Trump!!! That everyone targets and what's with this lag?? I was plugged into the internet and my game was still lagging like crazy. Also when u play offline, the bots spawn with weapons and will start chasing u right when u spawn and what really gets on my nerves is when an ad is over, the exit button is always so tiny and every time I press it I will be brought to the App Store. It usually takes 7 or 8 tries to exit the ad. One more complaint I have is not about the game it's how you guys don't respond to our feedback so please do. Anyway thanks for reading please fix this and have a great day.
Get Crash of Cars from App Store
What is your opinion about Crash of Cars
Get more free apps & games daily
Subscribe to our mailing list and get free apps & games daily to your email inbox.
Thank you for subscribing.
Something went wrong.