(Game) Crash Drive 2
iphone games for free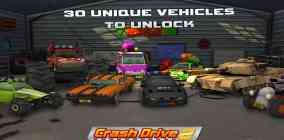 Game Description :
Crash Drive 3D is back !
A sequel to the awesome off-road racing game Crash Drive 3D! Pick your car at the garage and get ready for some fun, mad, free-roaming driving experience.
Tank Battle Mode! Choose and customize your tank and ride it into battle. Try to push as many other players' tanks out of the five arenas to become the ultimate tank master. Level up your Tank Battle level to the max by earning special points, and unlock all five tanks. You can find Tank Battles in the level selection screen.
Whether you're driving a bus, a classic muscle car, or a monster truck—you go your own way in this multiplayer stunting game. Speed across a huge map equipped with plenty of bizarre terrain to make the race intense. Collect coins, upgrade your ride, and WIN the off-road race! Improve stats of your vehicle at the shop, maximize the acceleration and the speed).
Game Features :
FREE install
Multiplayer gameplay
6 random competitive events: Coin Collect, King of the Crown, Race, Tag, Stunt, Find the Ring
New Mode: Tank Battles
Accurate physics movements
4 endless levels (Open Worlds) to explore…can you find all the secret areas?
Highscores and leaderboards
Free credits every day you play
30 unique outrageous cars to unlock (like a School bus or a tank !)
Special car-leveling system
This car game has already been downloaded more than 3 million times !
Note: Multiplayer is disabled on older devices, including the iPhone and iPod 4.
Additional Information :
Compatible with iPhone, iPad, and iPod touch.
Requires iOS 8.0 or later.
Size 280 MB
User Reviews :
It's fun, kills time easily, doesn't require money (unless you're one of those suckers who think they have to have the best of everything right away), and is fairly easy to control.I love the free roaming aspect and the fact that you don't crash every other second like similar games.The unavailability of other vehicles from the start is a bit disappointing, but not enough to quit the game.Different territories to choose from would be nice, too.Enjoying it, so far, though.
Okay so I'm a really big fan of this game I like the simple controls and the way it's set up, but I'm gonna need u to change some things, I've had this game before no problem, I unlocked all the worlds and all the cars, I recently got a new phone, I can no longer race the challenge cars, when I click accept or not accept it crashes and I get sent to my home screen, second in not sure if this is just me, but since I had to restart this game I've just recently made it up to level three, no matter which button I click my car only turns right, please fix, I can't get passed the third level because of this, it just will simply not let me turn left, and this was one of my faveourite maps, PLEASE FIX THE BUGS!!! thank you have a nice day! ;)Update: so all the glitches I complained about a while ago are gone! Have a new new phone game works amazing love it just as much and used to play it all the time… but here's my problem now. What happened to banner ads at the bottom of the screen? Now I get constant full screen pop up ads that make it impossible to race and really annoying to play, it's gotten to the point where it's no longer fun 😥 so I'm sorry but until this pop up ad problem is foxed you're getting one star
All right so there were some glitches that weren't great but come the no reload time on the tank gun that was awesome plus there were a lot of other really cool, fun ,and helpful glitches. If you ask me the game lost a lot of players when it "fixed" the so called problems. I know people that loved the game but deleted it and completely forgot about it because of this. I myself deleted it because of this but I later downloaded it agin because it is still a good fun game but not as fun as it once was. Not only did they get rid of the tank glitch but they made the power of the normal shot weaker too. I used to be able to shoot a car way up in the air with just one ordinary shot from my tank ,but now I can hardly get one off the ground. So in the end it is still a great fun game, but they should bring back the glitches that made it so much more fun.
Get Crash Drive 2 from App Store
What is your opinion about Crash Drive 2
Get more free apps & games daily
Subscribe to our mailing list and get free apps & games daily to your email inbox.
Thank you for subscribing.
Something went wrong.