(Game) Clumsy Ninja
 iphone games download free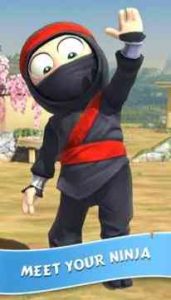 Game Description :
Meet Clumsy Ninja, the most hapless ninja ever to grace a touchscreen!
Train him, throw him, tickle him, and even tie balloons to him. Everything you do will make Clumsy Ninja more skillful, and help him find his missing friend, Kira.
Clumsy Ninja is the next generation of interactive characters! He can sense, feel, move, and react uniquely every time. Prepare to be amazed…oh, and please take good care of him!
Game Features :
BELT UP
Train your ninja to learn new tricks and super-special Ninja Moves! Impress his sensei and earn new Ninja Belts on your way to find Kira, or just have fun with over 70 unique interactive items, including trampolines, punch bags, ball guns, a chicken, and… a squirrel!
ADVENTURE TIME
You and your ninja will travel to new locations, play new games, meet new characters, complete quests, and unlock fun new items to play with. How many will you discover?
CUSTOMIZE
Customize Clumsy Ninja's suits, belts, and headbands to match your style. Take photos of your ninja's craziest stunts. Keep your eyes peeled: there are many surprises waiting for you!
UNFORGETTABLE MOMENTS
Clumsy Ninja is a living virtual friend who thinks and acts with real intelligence – and a lot of clumsiness! You'll experience unique moments with your ninja and his companions every time you play!
FIRST ON TOUCH DEVICES!
Clumsy Ninja is the first game on touch devices to ever use the EUPHORIA simulation technology – producing the most believable character you've ever seen.
PLEASE NOTE! Clumsy Ninja is free to play, but it contains items that can be purchased for real money. You can toggle these purchases on/off in the ""Restrictions"" menu on your device.
Optimized for: iPhone 4S and above, iPod 5, iPad 2 and above and iPad Mini and above.
Requires iOS 5.1.1 or above.
Clumsy Ninja is published by NaturalMotion Games Ltd
Additional Information :
Compatible with iPhone, iPad, and iPod touch.
Requires iOS 6.0 or later.
Size 240.8 MB
User Reviews :
NaturalMotion's Clumsy Ninja is an utterly delightful game and a remarkable triumph in animation and presentation. Transforming your klutzy ninja into a capable combatant using a variety of objects—like trampolines and balloons—is an absolute joy. The easy-to-understand challenges make this an excellent choice for new gamers, and the incredible array of items and interactions ensures that experienced gamers are charmed silly.
Hey! Just so you know, I LOVE this game! Every challenge, every photograph, every time the Chicken goes on my screen… But one of these challenges stood out to me. The "Face Yourself" Challenge. It requires "The Shadow" Punching bag with Sensei saying "Get The Shadow punch bag. It's the dark, mysterious one…" Now if you are also a Sonic fan like me, doesn't this sound like a Shadow the Hedgehog reference? Shadow the Hedgehog is dark and mysterious. The Shadow punch bag is in Shadow's colors: black and red. Plus, Shadow is Sonic's rival. At first, SEGA made it so almost every character in Sonic Adventure 2 thought Shadow was Sonic and that it was Sonic who stole the Chaos Emerald. Sonic calls him "faker" because Shadow almost looks exactly like him. And they almost equal in power, if not one of them has more. It was almost as if Sonic was facing himself… But hey, I'm just guessing a bit here. You are probably trying to describe a ninja being the punch bag. Or maybe you aren't. Oh well, I still love this game anyway. Thanks for creating this!
This is an awesome game! My only suggestions? First of all, it takes way too long to level up. Please make this take less time and XP. Also, some missions require you to level up before you can get the item(s) required for them, and this happens very often. I'd like to see missions that require items that can actually be purchased without needing to level up first. For instance, (true story) I just got to level 13 so I could buy the Red Star Ball for a mission. Immediately after, I get a mission saying to buy items for which level 14 is required! WHY⁉️ Please fix this! Other than that, it's an amazing game! When I'm stressed, instead of punching a wall (or even worse, the person next to me), I can just go into the app and kick my ninja around! Thanks for all your hard work, and please take my ideas for updates into consideration! Thanks!
Get Clumsy Ninja from App Store
What is your opinion about Clumsy Ninja
Get more free apps & games daily
Subscribe to our mailing list and get free apps & games daily to your email inbox.
Thank you for subscribing.
Something went wrong.