(App) Cloze Relationship Management
  iphone apps info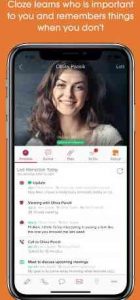 App Description :
Best Personal Assistant I have ever used, and I've used them all. – @SealMaster_CO
Fantastic integration across multiple sources to create a single view of your relationships! – SUJONEROPRJA
I closed three orders in the first 24 hours of use! This has never happened with any other CRM I've tried! – Nicholas Hughes
Cloze is like a personal assistant for your professional relationships that is always prompting you at the right moment and remembering what you don't.
It pulls from your apps to automatically create one view of every person and company – all their contact details, and your complete history – every email back and forth, your phone calls together, meetings, notes, files, social, and messages.
It's all organized for you – without any busy work.
With everything in one place, Cloze figures out who is important and keeps them top of mind, and will even remind you to reach out to a contact and refresh a fading relationship.
App Features :
SMART AI
Understands action items and adds them to your Agenda (e.g. "Please review and get back to me by Friday.")
Automatically reminds you when it's time to reach out to key people
Sees change to email signatures to update contacts
Automatically links agenda items to mentioned people and companies
UNIFIED CONTACT MANAGEMENT
Brings all your contacts into one place
Automatically keeps contacts up-to-date
PROFESSIONAL-CLASS EMAIL
Get reminded if you don't receive a reply to an important email
Be notified when a recipient opens an email or clicks on a link you sent
Templates: Create and reuse template emails Share them across your team
Mail merge: Personalize email sent to many people at the same time
Scheduled send: Write your email now, have Cloze deliver it later
Built-in support for Do Not Contact and the GDPR
Supports Gmail, iCloud, Office365, Exchange, Outlook, Yahoo!, IMAP
CRM WITHOUT THE BUSY WORK
Track the activity around projects and deals automatically
Next steps: Automatic reminders of what's next for any deal
Add To-Dos to track things you have to get done
Agenda: one place to see all your meetings, reminders and follow-ups
Analytics: Pipeline, forecast, engagement, activity, and lead analytics
ONE VIEW OF EVERYTHING
Emails: Automatically organizes mail by people, company, project and deal
Calls: Automatically log your calls (AT&T, Verizon, T-Mobile USA, Sprint, RingCentral)
Files: Automatically link files to your contacts (Dropbox, Drive, OneDrive, Slack)
Notes: Automatically match notes to contacts (Evernote, OneNote)
Messages: Track Slack messages about your clients and customers
Calendar: Meeting context at your fingertips (Google, Office365, Exchange, Outlook, iCloud)
WORK AS A TEAM
One team-wide view of all communication for every deal and project
Always know who last talked to any customer, client, or prospect
Assign and track who's responsible for contacts, next steps and to-dos
Manage your all of your company's contacts, projects and deals in one place
Cloze is free to use for contact management and as a basic email app. Additional features require a subscription to Cloze Pro, Cloze Business (Silver, Gold, or Platinum) and are available as a 14-day no-obligation free trial or by monthly or annual subscription as an in-app purchase.
Prices vary by location. Subscriptions will be charged to your iTunes account and will automatically renew at the same price as the previous period unless cancelled at least 24 hours before the end of the current period. Once paid, a subscription is non-refundable for that period. After purchase, your subscription may be managed, and auto-renewal turned off, in your App Store Account Settings.
PRIVACY & SECURITY PLEDGE
We won't spam your contacts
We won't sell your information
It's your information not ours
You can find our terms of service here: www.cloze.com/app/legal/terms
And our privacy policy here: www.cloze.com/app/legal/privacy
Additional Information :
Compatible with iPhone, iPad, and iPod touch.
Requires iOS 9.0 or later.
Size 103.8 MB
User Reviews :
I've been using Cloze for over a year and I'm very happy with it. First, with most CRM tools, you have to start by entering a lot of data – Cloze starts by importing data from the tools you already use, like email, phone, social media, notes. It then helps keep the contact data updated, by checking email footers and other sources like data services. It also automatically links new communications like email, phone calls, notes to contacts. The system also tracks email details like whether my sent emails have been opened by the sender, reminds me when I've made a commitment in an email that I need to put in my calendar, and more. For pipeline, it uses a kanban board interface so I can see quickly where a prospect is in the pipe and next steps. One of my favorite features is search – I can do searches on all the indexed content from email, notes headers, phone, contact details like job, and more. I sometimes can't recall names but can use other bits of data in a search to find contact names. It also supports prospecting tasks like outbound emailing, but I haven't used that yet. Plus, the system gets better and better with regular new releases of functionality. Great work, Cloze!
Get Cloze from App Store
What is your opinion about Cloze
Get more free apps & games daily
Subscribe to our mailing list and get free apps & games daily to your email inbox.
Thank you for subscribing.
Something went wrong.