(Game) Checkers
iphone games for free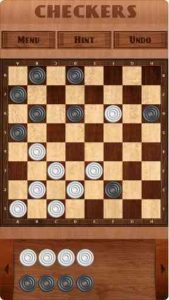 Game Description :
Checkers (also called "Draughts") is challenging board game that is easy to learn but hard to master. The rules are simple: capture all enemy pieces and win the game! You can play with family and friends or against computer opponent with different difficulty levels.
Game Features :
 1 player or 2 player gameplay
 5 levels of the difficulty
 HD graphics for iPhone 5 and iPad with retina display
 ability to undo wrong move
 option to enable or disable forced captures
 quick response time
 animated moves
 easy to use interface design
 auto-save when exit or phone ring
 three themes for board and pieces
 piece moving hint
 compatible with iPod, iPhone and iPad
 view captured pieces
 ability to listen music in background
Additional Information :
Compatible with iPhone, iPad, and iPod touch.
Requires iOS 6.0 or later.
Size 67.2 MB
User Reviews :
I don't know why, but I literally play this 'stupid game' every day since I started playing a year ago. It is challenging for me, having started out as a complete novice to checkers. I now find it most challenging on the second-highest difficulty setting as the highest difficulty setting is actually easier to beat. I wish the clock still displayed on my phone during the game because I lose track of time. It's a well-designed game, I must say, that can actually teach you how to be a good player with hints and continue to be challenging. It has ads after every other game and there is no option to pay for ad-free that I can find; I actually would drop $3 or so for an ad free version because I play it so much in my free time. It is definitely worth the download compared to anything else available.
I LOVE THIS GAME SO BAD!!!!!!!! All that I don't like is when you lose. I just want to tell u is that when u enter the game, there are words that are "undo" "hint" and "menu"In the menu there are all these things. I don't know why it says more games. I just do NOT UNDERSTAND THAT I DONT EVEN KNOW WHY ITS THERE!!!!!!!!!!!!!! ARGHHHHHH!!!!!! But I 1,000 % love this game!!! U HAVE TO GET IT!!!! IM TELLING U AGAIN!!!!!! U HAVE TO GET THIS GAME!!!!!!!!!! So what I will say is that u can get it maybe for FREE only IF it's for free I don't even remember if it's free because I got it a long time ago I'm 8 and I got it when I was 7. Do u get it? Ok then. Now lets return back to getting this thing.  this is me right NOW

Well even though there are some unfortunate things this game is okay.

But my complaint is that if you have a jump then it practically makes you jump your opponent . The reason this annoys me is because I could either move forward to the right or jump my opponent to the left but because I could jump him the game wouldn't let me move forward without jumping him. And the reason I didn't want to jump him was because I would just get jumped back. And that caused me to lose the game . And although there are other games to play , when I want to play checkers on my phone , I want it to work. Other than this minor problem I think this game serves its purpose and I would recommend it.
Get Checkers from App Store
What is your opinion about Checkers
Get more free apps & games daily
Subscribe to our mailing list and get free apps & games daily to your email inbox.
Thank you for subscribing.
Something went wrong.
Summary
Reviewer
Review Date
Reviewed Item
Author Rating