(Game) Cars of New York
 iphone games for free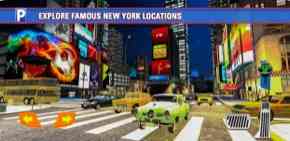 Game Description :
Explore the streets of New York in ultra realistic detail! Cruise along Broadway, Wall Street and the famous Avenue of the Americas, including Times Square. Drive 15 Amazing New York themed vehicles including SUV's, Sports Cars, Iconic New York Taxis and Busses, a Classic yellow School Bus, Police Tow Truck and 4×4, Limousines and beautiful American classic cars. There's a car for every occasion.
REALISTIC DRIVING
Featuring realistic road layouts following the exact layout as in real life!
Drive amongst city traffic and try not to cause a pile-up. But you'll have to take some risks if you want to beat the target times for the best in-game rewards.
PARKING MISSIONS
Park your cars in 75 increasingly challenging Missions. Can you pass them all without damaging the cars?
Game Features :
Drive & Park 15 New York themed Vehicles!
75 Precision Parking & Driving Missions!
Drive Amongst Intense City Traffic!
100% Free-2-Play, with No Strings Attached!
iCloud support. Continue progress on your other devices!
Customisable Control Methods (Tilt, Buttons, Steering Wheel)
Multiple Views (including Bonnet Cam)
Runs on anything from (or better than) the iPhone 4, iPad 2, iPad Mini & iPod Touch (5th Generation)
OUR FREE TO PLAY PROMISE
The Main Game Mode is 100% FREE to Play, all the way through, no strings attached! Extra Game Modes that alter the rules slightly to make the game easier are available through In-App Purchases.
Additional Information :
Compatible with iPhone, iPad, and iPod touch.
Requires iOS 8.0 or later.
Size 221.1 MB
Users Review :
Cool cars you guys have good job with the game but the one thing you could with the game is lower your price on your unlock all the cars it's a bit of. Rip off but you guys still made a petty good game for a Parking simulator but anyways good night make more games with more cars and better graphics and more fun game play game tonight with the golf cart course yet eyes are you on with the the game which I will am
I don't want to be mean and I like your game for about one minute but let's get to the serious stuff now first of all your game is super fake and when I say fake I mean bad graphics like there are games with some pretty bad graphics but this game is worse another thing is the fact Dad you make it impossible to do anything because the stupid cars around you just won't drive in the right direction And it's in possible to park because your cars are parked so badly and it's not like you're driving a real car you have to fix your game
First of all the arrow keys are too close together. And when you crash your not hitting anything. Last but not least your when you press forward it sometimes breaks your car. And on the taxi level it is very hard to pass one of the levels.
It is very realistic and when you crash and after the video if you crash again it doesn't even make you watch the video again!!
I love this game. The only thing I'm not sure about is that every time you crash, you have to restart. Maybe you could get 3 chances or something. But it still is a good game!
I love the game but one thing every time you crash you have to watch a Video or try again but I still like the game
There are no traffic rules. The other cars don't respect the traffic lights, there are no blinkers, and the field of view, if you change to deivers mode camera, is terrible.
I love this game I often just ignore the missions and drive around the city
Get Cars of New York from App Store
What is your opinion about Cars of New York
Get more free apps & games daily
Subscribe to our mailing list and get free apps & games daily to your email inbox.
Thank you for subscribing.
Something went wrong.