(App) CarMax – Used Cars for Sale
 iphone apps download free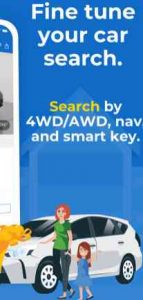 App Description :
Find, search and browse used cars with CarMax, America's #1 used car retailer. Download the Car Max app today to shop and find the right car, truck, or SUV for you.
Save time car buying with Car Max and search a nationwide inventory of 50,000+ used cars, SUVs and trucks.
App Features :
Find the right car for you:
Search by make, type, model, year, price, features, MPG, and more!
See car details and photos.
Customize your search:
Save car searches.
Get alerts for any changes to your saved cars.
Save cars and car searches. Sort cars by customized filters.
Shop all around in one place:
Schedule free appraisals and get free vehicle history reports
Calculate estimated monthly payments and search cars that match your budget.
Apply for financing and make payments
At CarMax, we've got your back. That's why we offer:
1. A 7-Day Money-Back Guarantee on every car.
2. Free appraisals that give you an actual offer, not an estimate.
3. Upfront prices, clearly marked on every car.
Download the app now and find your used car, whether on your local Car Max lot or on the go.
Additional Information :
Compatible with iPhone, iPad, and iPod touch.
Requires iOS 11.0 or later.
Size 81.3 MB
User Reviews :
For those who like to play with their Netflix queue for hours or enjoy sorting, filtering data, this is a great app and what I used for my purchase. For detailed written reviews, there are better choices, maybe juez news or similar. Already knowing the model and budget for my search, the rest effective and enjoyable, and also a learning experience. For instance, once I decided I wanted a roof rack, tow hitch, leather seats, the matched vehicles was down to just a few, which I could quickly scrutinize.Try this for a great search: *Price or Budget* search and chose a 10k range and press the yellow bar. Then chose *filter* from the top right. Make a single choice or two, keeping an eye on the amount of cars matched. Back up and re-filter if necessary. One real problem though is: if you chose to go back on the wrong screen, need to start all over again. Buying a car is much easier if you don't need it the next day, week. I filtered nationally and had my choice trucked to my local Carmax. Look into that.
I have had a terrible time since the purchase of my 2017 Maxima.. my review of Carmax was good we were excited for buying a car but on the way home about an hour out we noticed the stereo was working and we called the next day to get it fixed they said we had to bring it back to them . It's a total 4.5 hours so 2 different times we drove there and neither time did anyone tell us that service department is open until 8 like the rest of building and they didn't tell us thst we could have dropped it off so we go home come back on a Friday and same thing happen so since then pass get side doors have come off hinges and a piece of the plastic on the car flew off while driving…tried to get a loaner from them and they couldn't let me drive one off lot due to ABS LIGHT ON THE VEHICLE THEY SAID but THEY SOLD ME THE MAXIMA thst had the recall on it for the same RECALL ON IT ABS… DO NOT buy from them or trust car fax report , ours showed it was fine no accidents but when we took it to A local Nissan dealer they showed the doors had two different paint and doors had been replaced .
It really is no pressure sale and whether your getting a $10,000 vehicle or a $70,000 vehicle they treat everyone the same because they get a flat rate commission meaning they make the same amount of money selling a $10,000 car as they would selling a $90,000 car. I felt like I was important and they really care about each customer the same. Plus the app is very easy to navigate whether you want a certain color sunroof heads up display automatic parellel parking or brand or suv or car you can pretty much narrow your selection down if you want certain features heated cooled seats etc. plus they also sell brand new cars at some locations but you can always transfer to store close to u awesome place if you're looking for a vehicle
Get CarMax from App Store
What is your opinion about CarMax
Get more free apps & games daily
Subscribe to our mailing list and get free apps & games daily to your email inbox.
Thank you for subscribing.
Something went wrong.