(Game) Car Parking Multiplayer
iphone games for free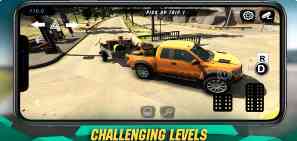 Game Description :
More than just parking: open-world multiplayer mode, car tuning, free walking!
Thousands of players are waiting for you.
Join us!
Game Features :
Multiplayer open world mode
Free walking.
Free open world with real gas stations and car services.
Compete against real players in the multiplayer racing.
Exchange cars with real players.
Thousands of real players every day.
Friend list.
Voice Chat.
Police mode
Car customization
Adjustable suspension, wheel angle and more.
Engine tuning: swap engine, turbo, gearbox and exhaust.
Visual auto tungs: Dynamic vynils, car body parts.
High-quality open world
Highly-detailed environments
70+ cars with the real interior.
16 player skins
Buildings with interior
Amazing gameplay
82 real-life parking and driving challenges.
Different vehicles: Tow truck, pickup, trucks, sport and classic cars.
Additional Information :
Compatible with iPhone, iPad, and iPod touch.
Requires iOS 12.0 or later.
Size 534.4 MB
User Reviews :
This is a Great game but I feel like it could maybe use a few little things like maybe different weather, Also wish it had like day time and night time. I think it would be really fun if you added a off road/ dirt road and just have a bunch of hills and just a cool little area we're you can just mess around. I also think adding a car wash would be fun to add to the game. I think adding phones so we can like call for a taxi or to order food, Also wish the restaurant looked better and not so plane and wish it actually had food and maybe actually work there. I think the game needs to add like people walking around so that you have to watch your surroundings and so the area doesn't look empty like a ghost town. Maybe have air planes and helicopters maybe a airport. Wish I was able to take my dog for a car ride I think that would be fun as well like have his or her head out the window with it's tongue out think that would be soo cute and fun! Again I love this game just think it could improve just a little bit! Keep up the good work LOVE this game!
Game is great i honestly love it. Play it all day like I have a mobile forza only thing is I wish there were more cars. Also why no character creation?? The selection of characters is honestly racist or very clearly to have biased creators when the only clear black guy is a cop. Might aswell just delete all the characters and let people create. Also, the game needs more cosmetics and engine upgrades. The amount of money you earn should slightly increase because parking all day too grind for cash leaves new players struggling to advance unless they get a lucky donation from a player like myself. Also more environmentally interactions would be even better. The tolls were a smart thing to add but why not just add actual mini jobs for players. Other then needing to add those things the game still gets my vote for top 5 mobile game ever. Moreover this game has the perfect setup to create car meets and give a lively feel to the life of a street racer. Adding more homes or apartments would also be dope . The game should also allow an easier access of communications with other players.

This game is so much more than just parking a car. It has everything, from camber adjustments to rims and body kits for your sweet new ride. With over 75 different real life 1 to 1 cars, it's impossible to get bored! Every single car has a perfectly replicated interior too which just blows me away. There's even different characters, and one of them is the white track suit racer from top gear! God what an amazing game. The only thing I could ask for is a radio in the house. Me and my friends enjoy setting up car meets at the donut shop, and driving to the house for a party afterwards but it's hard to have a party without music! Please please pleaseeee add a radio or stereo system so me and my friends can hit the dance floor after our car meets. 🙂 thank you for such an amazing game, and also thank you for putting in cloud backup so I can play on my iPad and iPhone! Whoever had that idea should be head developer on the team

ALSO if you could take your dog for a ride that would be amazing
Get Car Parking Multiplayer from App Store
What is your opinion about Car Parking Multiplayer
Get more free apps & games daily
Subscribe to our mailing list and get free apps & games daily to your email inbox.
Thank you for subscribing.
Something went wrong.