(Game) Camper Van Beach Resort
 iphone games for free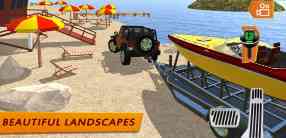 Game Description :
It's vacation time! Hop into your camper van, ready your caravan, polish your minibus! Get out of your house and begin the adventure today. Feel the summer breeze and prepare for a fun ride! Now updated with 5 new cars and 25 new missions!
Game Features :
BEAUTIFUL OUTDOOR ENVIRONMENT – eye-catching, sunny locales
15 UNIQUE CARS (5 brand new!) – each providing a different driving experience!
REALISTIC TRAFFIC – be careful not to crush the massive vehicle you're driving
PRO MISSIONS TO COMPLETE – huge campaign to beat, earn in-game money for your progress
Camper Van Beach Resort features multiple different cars, each of them suited for a weekend getaway as well as long-term camping. Can you drive them around with style and precision required? If you want to earn your time in the sun you will have to give it your best!
You will drive campers, caravans, minibuses and even a boat trailer. The game features a wide selection of different cars. Each one of them has to be handled with care and precision.
Most of the time the narrow passages and roadside obstacles will be all of your problems. But the game also features realistic traffic that has to be taken into account. Remember – you're driving a massive vehicle. You don't want to crash it!
Drive around crowded campsites, avoiding tents and leftover equipment. Behold the magnificent view of the beach as you pass through tight oceanside routes. The game features beautiful sunny locales which make driving around a true pleasure.
The Main Game Mode is 100% FREE to play, all the way through, no strings attached! Extra Game Modes which alter the rules slightly to make the game easier are available through optional In-App Purchases. Each mode has separate leaderboards to make for totally fair competition!
Additional Information :
Compatible with iPhone, iPad, and iPod touch.
Requires iOS 8.0 or later.
Size 225.8 MB
User Reviews :
Hello guys I LOVE THE GAME the game is so cool it got me hooked. When it was my first time playing it looked good but bye the time I was on mission 21 the game turned out to me that the game was REALLY REALLY AMAZING. . . So I've Ben waiting for 3 months to tell you this..So when I pressed the normal store button I found a mode called invincible mode and it said that if you had the mode you'll never fail missions. I had to get it for 8$ So when I bought it the normal mode was still on but it said if I wanted to go in the normal mode or the invincible mode and I pressed invincible mode and when ever I crashed it said take another go and I liked how it did that and plus on the mode I got on mission 75 and it was the last mission.
I normally really don't care if there's ads in a game, especially if it's free. The developers need to make money so it's fair and makes sense. However, the type of ads should be similar to the app's content. I downloaded this game with the intent to play it to distract myself from my anxiety. Unfortunately, an ad for Sniper Assassin Shoot to Kill came on and it started up my anxiety. The worst part was that it was a payable ad and wouldn't advance until I "played" the little game in the ad. You end up sniping someone and it zooms in on the shot. That's not something I want to see when I'm playing a tranquil game. Please remove that ad.
I would give a 5 star review if there were no ads. But what counteracts it is the great graphics, rapid loading time, and what not. But the 3 problems are too many ads (I could just turn off WiFi, so GET OWNED, ADS!), level design, and constant crashes. I could fix this issue altogether by buying the no ads dlc, but my money has better things to be spent on, like my college fund. This is why I made the title of my review 'Good game'. Again, I could've fixed the issue myself, but I don't really feel like spending money on this.
Get Camper Van Beach Resort from App Store
What is your opinion about Camper Van Beach Resort
Get more free apps & games daily
Subscribe to our mailing list and get free apps & games daily to your email inbox.
Thank you for subscribing.
Something went wrong.