(Game) Breakneck
free games for iphone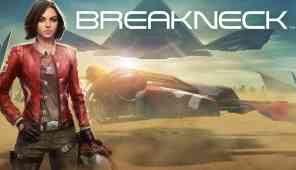 Game Description :
Fly at BREAKNECK speed as you pursue your mission and get as far as you can. The world is now occupied by invaders—and they are hunting you. Scramble through unfamiliar terrain, dodging obstacles and evading capture and destruction. Retrace and optimize your route to improve your distance. Test your limits and your control, and earn rewards for the risks you take.
Fly further. Rank higher. Keep going. The mission depends on you.
Game Features :
Thrilling action gameplay as you speed through a hostile world, building distance and collecting supplies
Daily and weekly missions to test your abilities
Play and collect new kits to customize your speeder!
Awesome 3D graphics and environments depicting a ravaged post invasion landscape
Environment resets daily so there are always new paths and challenges to master
Weekly tournaments and leaderboards so you can compete against other survivors
Boosts and unlockable ship upgrades to help you tackle ever-evolving challenges
Phantom ships of last and best daily runs so you can race to beat your best score
Optional in-game recording so you can watch and share videos of awesome runs (iOS 9 only)
All new original soundtrack by musical artist Kadington
Metal support
GameCenter support
MFI controller support
ReplayKit support
Optimized for iOS 9
Use 3D Touch for precise steering on Apple's latest mobile devices
We love to hear from our players!
On Twitter? Drop us a line @PikPokGames and join the conversation with #BreakneckGame
Breakneck is free to play but offers some game items for purchase with real money. You can disable in-app purchases in your device's settings.
Additional Information :
Compatible with iPhone, iPad, and iPod touch. Apple TV.
Requires iOS 9.0 or later.
Size 826.7 MB
User Reviews :
PikPok's dystopian infinite racer is an unsettling and absolutely gorgeous experience. But don't stop too long admiring the scenery—a relentless bogey is always on your tail, edging closer every moment. Though the controls are dead simple—tap on the left side to steer left, right for right, and both sides to boost—charging that all-important boost requires you to steer dangerously close to obstacles. But if it's crash or be captured…well, you probably already know what you'll do.
I saw this game on the App Store when it was new, however it was a payed app. I was disappointed because it look great. And it is, I ended up downloading it when it became free. The app itself is very fun and has amazing graphics. However, there are bugs that need fixing and minor lagging. These issues are NOT game breaking but have lowered the rating to a 4 in my eyes. Also the story has potential but as far as I can tell there isn't really one, other than the opening mini story. If one was added it would only add to the experience and make the game that much better. I highly recommend this game for anyone looking for a time passing or a racing/competitive game. The in game tournaments are a great feature. And perhaps in the future we will be able to do head to head races against other or friends. I hope to see this app improve and I have contribute with buying the December pack
The only major error I've encountered is that when I go to revive by watching a video, the video will finish, but nothing will happen (the game won't freeze, though) and I have no choice but to exit the revive menu.This game has everything I'm looking for in a racing game! The menus and overall design are beautiful, the graphics are stunning, and even after you've progressed a while and gotten used to the controls, your heart is still beating fast when you're nearing your high score! The music and sound effects are beautiful! The Perks and Pick-ups are interesting and really do help your racing! The zones are a bit repetitive, but are well-designed and usually bug-free. The 3D Touch integration is useful and makes the game a lot more challenging! The daily missions and weekly tournaments are pretty cool – the rewards are fair and the kits for your speeder are all very stylish! The in-app purchases are decently priced (I've spent a few dollars on them, and I love how once you make a purchase, the ads go away!). I've experienced very little lag, and it has only crashed once or twice (none of this impeded my gameplay). I'd suggest adding more Pick-ups and tournament kits. I can't believe this game is free (it's definitely worth a few dollars); I play it every day and I love it! Very few apps catch my eye, but this one is definitely worth my time (and yours)!
Get Breakneck from App Store
What is your opinion about Breakneck
Get more free apps & games daily
Subscribe to our mailing list and get free apps & games daily to your email inbox.
Thank you for subscribing.
Something went wrong.