(App) Booksy – Book your appointment
 iphone apps for free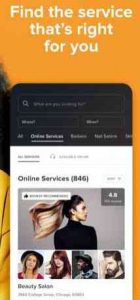 App Description :
Now more than ever, connecting online has become a crucial part of us attempting to maintain some normalcy.
Booksy is teaming up with Zoom to bring you a new way to experience services – digitally.
App Features :
Access calendars, services, prices, and reviews with the freedom to book as you please. Here are a few things you get with your free Booksy account:
Online Services: For when visiting the shop or salon is not an option, experience beauty in a new way. Book your digital appointment with your service provider via Zoom.
Real-Time Calendars & Reminders: Booksy lets you see the service provider's schedule so you can align it with yours. Even if you book an appointment far in advance, you can add it to your mobile calendar and get reminders from Booksy so you won't forget.
Donations and #TipNowBookNow: Booksy's #TipNowBookNow feature allows for you to donate and/or tip when you book your appointment, even though your visit to their shop or salon won't be until later.
eGift Cards: If you can't make it to the shop or salon during this time, purchase an eGift card so you can pay now, but visit later. This will also help your service provider get through this time while their shop is closed.
Service Packages: Purchasing a package is a great way to score a discount on your regular services, and plan out your salon or shop visits for the future. Purchasing packages will also support your service provider through this time.
Get Booking Peace of Mind when you book with Booksy.
If you're a business owner and want to try out Booksy Biz, click here to download!
If you have any questions, please contact us at info[at]booksy.com.
Additional Information :
Compatible with iPhone, iPad, and iPod touch.
Requires iOS 11.0 or later.
Size 55.9 MB
User Reviews :
I've been using booksy for a while now and had some gripes with it. Those have mainly all been alleviated with the new redesign but one Manipur ANNOYING flaw. Ever time I open the app it always ask wants to connect to my contact list to see if I might "know" any business. I do not want the app going through my contact list. So everytime I open the app I get the same message and everytime I always have to hit the "not now" button. Nowhere in the settings can I disable the feature and it just really annoying considering the older versions didn't have this, and it takes the app longer to load because of it. Anyway to disable this feature?
I took my son here for a haircut because I was unhappy with a previous shop. This will be my 3rd visit. The staff at Solidified are awesome, friendly and professional. They interact with customers in their chair, including customers waiting. The shop has a nice fun sports style atmosphere and a very clean bathroom! When you arrive they are very attentive even if you do not have an appointment. I was also satisfied with my son's haircut and have remained a customer ever since.
I've been using Booksy for about 3 months now and it has proven to be an efficient and simple app. Nothing too complicated and I can make, change, or cancel my appointments with ease. It keeps my barber organized and easily shows me his availability. One thing I'd love to do is add my appointments to my iPhone's calendar. There might be a way to do that already and I just haven't discovered it yet. Overall, great app and great new design and look of the app!!!
So far this app has made reaching out to our barber super easy. We select a time and the Barber confirms it. We haven't had any issues yet with booking, however I've only used it twice. I look forward to booking more appointments in the future with ease. Hopefully I'll be able to find some nice salons and other reputable locations using this app!
Get Booksy from App Store
What is your opinion about Booksy
Get more free apps & games daily
Subscribe to our mailing list and get free apps & games daily to your email inbox.
Thank you for subscribing.
Something went wrong.