(Game) Big Win Racing
iphone games for free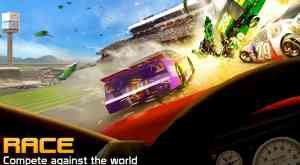 Game Description :
Start your engines and get ready to burn some rubber! Build your car, upgrade your engine and get other car parts to ensure you have the fastest car and are unbeatable on the track.
Feel the need for some furious competition as you motor towards the finish line and claim the checkered flag.
Game Features :
Play in Hi-Octane and Turbo Charged Modes:
CHAMPIONSHIP MODE
Complete in all 4 cups and drag your car 1st place to win special prizes and unique rewards
FRIENDS MODE
Connect to Facebook and challenge your friends to a high speed duel and drift around the speedway
EVENTS MODE
Players can compete in limited time events for a chance to win HUGE prizes
TROPHY MODE
Choose the number of games you want to play, rally your pit crew and battle it out in Pro and Amateur trophies to reach the top of the standings
QUICK RACE MODE
Practice your driver skills and test your car's abilities in this fast, casual race mode
Game Summary
**Full car and driver customization allowing you to build and race your own dream car!
**Open Bronze, Silver and Gold card packs to find new sponsors, skill boosts to improve your car and driver
**Play game-changing Big Impact cards and watch these tactics affect the outcome of every race
BIG IMPACT CARDS
* Taking The Pole
* Smooth Shiftin'
* Grip Through Turns
* Weave Through Traffic
* Slipstream
* Extra Horses
* and many more…
Other games in Hothead Games' BIG WIN Sports Series include:
BIG WIN Major League Baseball
BIG WIN Football
BIG WIN Hockey
BIG WIN Soccer
BIG WIN Baseball
BIG WIN Basketball
Play your favorite sport with BIG WIN Sports! Go for the BIG WIN!
© 2018 Hothead Games Inc., Hothead, Big Win and Big Win Sports are registered trademarks of Hothead Games Inc., all rights reserved.
By downloading this app you are agreeing to be bound by the terms and
conditions of Hothead's Terms of Use (www.hotheadgames.com/termsofuse) and are
subject to Hothead's Privacy Policy (www.hotheadgames.com/privacy-policy).
Additional Information :
Compatible with iPhone, iPad, and iPod touch.
Requires iOS 8.0 or later.
Size 79.8 MB
User Reviews :
If there is any way you can give us players more chances to change how well our team or drivers play like different strategies, I know football and racing give you options for certain things but I want a little more maybe different formations to choose or in racing when to pit. This would get 5 stars but I want more
I think it's dumb how you have to give your car parts contracts. In real life your car parts don't need contracts. This just makes the whole getting packs thing more popular but still why do you have to give your car parts contracts? And also the ranking in racing is stupid. It's so hard to get a good placements at the beginning of the game. They need to fix the pit crew, add more laps, make it so you don't spin out as much, and a lot more. This game needs a lot of work or they should make a new one. They also need to add new car models and a way to race with more than 1 friend.
Get Big Win Racing from App Store
What is your opinion about Big Win Racing
Get more free apps & games daily
Subscribe to our mailing list and get free apps & games daily to your email inbox.
Thank you for subscribing.
Something went wrong.