(App) Apartments Rentals
 iphone apps info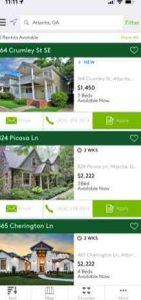 App Description :
Welcome to the Apartments.com Rental Search App: We have created the most dynamic and innovative app to help you find the best apartment or home to rent.
App Features :
After years of collecting your feedback through the App Store, studies, focus groups and more we focused on improving what matters the most to you. Now you're able to:
1. Access the most listings – Hundreds of thousands of apartments, condos, townhomes, and houses for rent are updated daily by our national research team.
2. Get the best information – Check real-time availability, rent ranges and specials without letting scams or repeat posts get in the way.
3. View more high-resolution photos and HD videos – Interiors, exteriors and neighborhood hot-spots are brought to life by our professional photographers and videographers.
4. Search smarter – Draw your specific target area and use overlays on the map to find your perfect place.
5. Take it wherever you go – Start your search on your computer and finish on your phone or tablet!
Our mission at Apartments.com is to show you the most information about the most apartments wherever you are searching. When it comes to your apartment search, no one is more focused on giving you more options and making it the easiest for you to find your next rental!
(Some Features may not be available for all listings.)
Additional Information :
Compatible with iPhone, iPad, and iPod touch.
Requires iOS 10.0 or later.
Size 145.6 MB
User Reviews :
My boyfriend and I recently started looking for something roughly halfway between our two (very far apart) workplaces. This app has been SO helpful in letting me put in my basic dealbreaker requirements (in-unit laundry, parking), price range, etc, and finding places that actually line up with those. I also love that I can type in a specific search area, but if I want to zoom out and see what else is nearby, I can just explore the map without having to re-enter all my preferences. The details for each listing are thorough and organized in a way that's easy to read and understand. You can also "favorite" listings for future reference, which is especially great when you're comparing places in a variety of places on the map. Overall, this app is super user-friendly, thorough, and exactly what we need.
I tried to use this app about two years ago – at that time I would have rated the app about 3 stars. You could tell the app was on the right track, but there were just a limited number of apartments listed in my area and some listings were clearly wrong. Now I am finding everything that was missing before. The time-to-work feature is still great and more accurate. I can quickly narrow down 1700+ places to a reasonable few with the feeling these listings are more accurate than a few years ago. If this app were at this stage a few years ago I probably could have saved a few hundred $ a month and have been living in a much more desirable place. Looking forward to the future, however!
This app has been very helpful. I'm a single mom with kids and I work Monday-Friday 8-5. Most apartment offices close at 5 or 6 so it is very hard for me to get the time to look. This app has helped so much. My only complaint is that a lot of the places are NOT up to date. In other words, several of the places I looked said that an apartment is "Available Now" so I took off work, went to the location, just to be told that they have nothing open. This was a bummer!! I found one I loved and took off early to go and content and excited I found the perfect place. Then I got there and was told it was NOT available. I will say this is most likely not the apps fault. It's probably up to the apartment complex to update their info. Anyway, if the business it's self would do there part I would say "BEST APP ever!"
Get Apartments Rentals from App Store
What is your opinion about Apartments Rentals
Get more free apps & games daily
Subscribe to our mailing list and get free apps & games daily to your email inbox.
Thank you for subscribing.
Something went wrong.