(Game) Air Wings
free games for iphone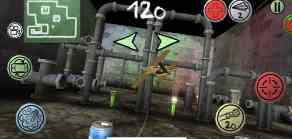 Game Description :
Online multiplayer paper airplane battles!
Game Controller support!
AppleTV compatible
Game Features :
Air Wings is a flying battle game where you pilot a paper airplane and shoot your network opponents using crazy weaponry such as the spit wads, rubber bands, heat seeking pencils, firecracker bombs, and suction cups.
The game is incredibly fun as you fly around trying to gather as much weaponry as possibly while avoiding your opponents! There are 18 different airplanes to choose from including a totally cool balsa airplane with a rubberband powered propeller, and there are 36 different Multiplayer Battle levels to play.
Additional Information :
Compatible with iPhone, iPad, and iPod touch. Apple TV.
Requires iOS 9.0 or later.
Size 172.7 MB
User Reviews :
I used to play this game all the time about a year ago, when new games started coming out I faded away from it just for the sake of there not being any new updates coming out, but I believe if you made some more tweaks here and there you could make it go way more popular ASAP. I think there could be more maps for 1, and add more lives than just 3 in multiplayer, and improve the match making. Another thing is adding more weapons to the game, more ability to the planes! I hope you "the developer" might indeed read this and if so you have an awesome game, but it could be so much more awesome!!! Great job! Thank you
I really like this game. I think using everyday items like pencils and paper clips for ammo is very creative. There is one thing I would like to see added to the game. It's great to go online and battle other players but you can't always find some one to play. Being able to battle against the computer say in practice mode would bring the game to the next level. Then I would give it 5 stars.
This is a great game.The only issue with this game is the number of people that play a hacked version of this game so, don't be surprised that your opponent is able to go through walls, go hyper-space or seems to be impervious to your weapons.Since the game has been consistently asking me to rate this game again ….nothing much has changed outside a few modifications here and there …….the game remains hacked ….nevertheless still a fun game. Things have not changed since my last review. And despite what Pagea says, I still stand by my contention that this game is hacked in many situations I see opponents go through walls even the Deck-floor leaving but their shadow behind and reappearing …. out of nowhere that's not poor network connection… that's game manipulation in one form or another.
Developer Response ,
There are no hacks. Not even one. Whenever this sort of thing is reported it is100% of the time explained by a poor network connection. It may be on your end or on the other player's end, but either way that's what's happening.
Get Air Wings from App Store
What is your opinion about Air Wings
Get more free apps & games daily
Subscribe to our mailing list and get free apps & games daily to your email inbox.
Thank you for subscribing.
Something went wrong.