(App) Air Cavalry – Flight Simulator
iphone games for free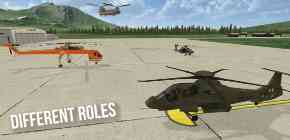 App Description :
More than 5,000,000 people around the world downloaded Air Cavalry flight sim!
Get into the cockpit of the most advanced helicopters in the world, including the UH-60 Black Hawk, MV-22B Osprey, CH-47 Chinook, AH-64 Apache, UH-1 Iroquois, OH-6 Cayuse, AH-1Z Cobra, CH-53 Super Stallion, Eurocopter Tiger, Kiowa Warrior, Mi-24 Hind, Ka-50 Black Shark or Mi-8 Hip helicopter in various regional environments, building on your flying skills and experience. Enjoy infinite flight in legendary helicopters like a real combat pilot.
App Features :
IMMERSIVE GAMEPLAY
You will experience the flight in famous combat & rescue aircraft.
Test your precision pilot skills, combat gunner skills and your own strategy planning.
HUGE COLLECTION OF AIRCRAFT
This flight sim offers well known aircraft types like Chinook, Cobra, Huey, Apache, Hind as well as super modern aircraft like Stealth-hawk, Osprey, Tiger, Kiowa and more.
Choose from 18 choppers right now.
DIFFERENT LOCATIONS
You will fly in Afghanistan, snow environment with huge mountains, desert, Vietnam forrests, big cities or carrier ops in the middle of the ocean.
GAME CENTER
You will climb the leaderboards, unlock achievements and challenge friends.
Air Cavalry flight simulator offers next-gen console like quality graphics, ultimate physics of aircrafts and weapons.
Join a Carrier Operations on USS Nimitz or Admiral Kuznetsov!
Fight and rescue in Afghanistan or Vietnam!
Complete Game Center milestones and see your progress against others.
Use your flight radar and weapon systems to practice engaging buildings and moving vehicles.
Features:
18 aircraft (more in developement)
42 missions
Carrier Operations on USS Nimitz CVN 68
Transport operations with CH-47 Chinook or CH-53 Super Stallion
Apache front (gunners) and back seat (pilot) positions
Multiple regional environments
Refuel and rearm aircraft to continue flights
Destroyable buildings
Achievements via Game Center
Leaderboards
Realistic 3D virtual cockpits
Realistic weapon management and targeting systems
Realistic weapon system physics engine
And much more in development
iOS 12 optimization
iPhone X, XS, XR optimization
The continuing development of our advanced helicopter flight simulator will bring new aircraft and missions, so check back often!
check our other simulators
Apache SIM
Black Shark HD
Black Hawk 3D
Chinook Sim
Osprey v22 ops
We always look forward to hearing the views of our customers. You can contact us 24 / 7 directly using:
email (realmobilesimulation[at]gmail.com)
twitter (@apache3dsim)
facebook (www.facebook.com/aircavalryapp)
website (www.realmobilesimulation.com)
Additional Information :
Compatible with iPhone, iPad, and iPod touch.
Requires iOS 10.0 or later.
Size 897.5 MB
User Reviews :
Just played it and it's pretty good though, I have some Ideas with the first being a bungalow pack where you can buy all helis that you haven't already purchased and a map bundle. Plague Inc Evolved did this and it did well. Second Enemies in Free Flight this would be a nice addition as free flight does get to being a little void due to the fact in it you don't get to test very much of you're helicopters, and personally I would prioritize this over multiplayer due to the fact nearly every one online is well I'll more then likely never play online due to the fact everyone likes to just keep you from playing. Third helis and VTOLs from other games now in Gmod there are some good mods adding stuff like a Pelican from Halo 3 that works just like it, it doesn't have to be grand scale or this suggestion isn't going to be needed anytime soon but it would be nice. Finally A slider for graphics, I'm running good with how they are but some people may not. The more people that play it and stick around the more money you get to make the game better.
This is a great game, however this need to make it more perfect like rotar blades break when crashed. Also add more Russian helicopters like the Mi 28 Havoc and the Mi 26. Also replace Navy destroyers with Modern destroyers, Also add A.I. helicopters on Certain missions and make the Helicopters spin when shot down with fire on what part it's damaged or crashed. And also add the feature of Creating our own mission and choosing map and adding the Enemy SAM sites and Friendly Air strike. Also add Enemy Trucks on missions also for the U.S. in Afghan and jeeps for the Mountains map and add Soldiers patrolling in base. also add Enemy helicopters for the Creation missions.
Get Air Cavalry from App Store
What is your opinion about Air Cavalry
Get more free apps & games daily
Subscribe to our mailing list and get free apps & games daily to your email inbox.
Thank you for subscribing.
Something went wrong.