IRL app by Live Awake Inc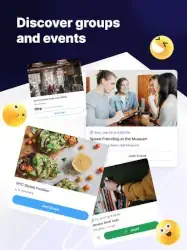 App Description :
IRL is the place for Social Messaging! Follow your friends, join groups you relate to, and chat! IRL super-charges your social life! IRL is one of the top Social Apps, and it's accessible through all your devices.
App Features :
Friends – Follow all your friends on IRL! Chat with them and see the events they are interested in. Use it to discover what you might have missed and plan something to do!
Groups – Create groups around your interests and discover people that have the same interests as you. Make new friends, or get closer with someone you know already. Groups can be public or private, you decide who joins.
Events – Events you create and join get added to your IRL Calendar so you can manage your busy days. Create events and invite your groups, make it easy to plan for clubs and activities! Birthday parties on IRL are always more fun.
Chat – Chat on groups and events, create polls, and send gifs! Chat with your clubs, friends, school groups, or family. Have a chat with 2, or be a part of a worldwide chat! Chat more together.
Find out why Apple named us "Our Favorite" in Social and upgrade your life today
Additional Information :
Age Rating 12+
Size 234.3 MB
Requires iOS 14.0 or later.
User Reviews :
Technology working towards live social interaction
I really love this app for bringing in new ways to get people together. It has all these wonderful suggestions and challenges for activities to go out and do with friends and family. Once you're connected through your contacts you are able to select an event such as go for a hike and invite as many people as you would like for whatever date to go hiking with you. Has a wonderful array of choices ranging from date night with your significant other to a wonderful brunch with friends. It also has a great way to keep you connected by letting you anonymously nominate people for badges everyday such as chillest beach jam bringer or the Bear Grills of the group. My only critique is that when you search for people in your contacts, if you search with more than two or three letters it no longer lets you select the person. It must be some kind of bug that I hope will be fixed soon. But other than that I love the idea and action behind this app to get more people out there and connected face-to-face and socially interacting with fun activities instead of just staying home alone on the weekends.
Developer Response,
Thanks for your feedback! We are working to update search for the next release
Truly lit
The nominations are my fave! And the invites are so cute! I love it! Please keep making more nominations and suggestions!

Update: above is my original review, but after using the app more I am beginning to love it even more. My favorite think about it is that it's just soooo much better than group chats or texting people individually. It's really helps so much for just making plans and having that be the focus of the app. If it was just chatting then this would not be the app, because I can't even send videos in the chat, but that's not the point of this app. The point is to do things irl which is way better and it's just so useful!

I had a few invites since creating my review and have just noticed even more how amazing it is. Once you get all your friends out to do something that you want to do through this app you will see what I mean. Also the noms are super fun, but the invites are where it's at. And like I said before, I wish that the app would have more suggestions, because the suggestions are super useful for when you are board you can find things to do with your friends. It's just the best I am excited to keep using this app to do things irl
Developer Response,
Thanks Jojo! We will keep making more!
My only groups app !!!!
Im one of those people who are hard to get on a new app. Maybe it's because I'm over the age of 25 and we watched the mania of app life integration from the begin, but… I do have to say I got sold on this one. I've been off of social media for over a year now feeling overwhelmed by everyone's energetic shares about things that mainly didn't really correlate to important in the NOW happenings. Once I cut off IG and FB I felt so much better energetically and emotionally – but I missed having a platform where I could genuinely engage with my friends. What I like about IRL is that it's only focus is giving you a digital tool to actually make plans that matter IN REAL LIFE. I know every time I'm opening this app, I'm not just mindlessly scrolling through content. I'm actually doing something valuable for myself and friends! So yes, 4 stars for now. I can tell this app is generally built for a younger audience than mine, but sincerely hope this catches on for all age groups.
Developer Response,
We appreciate your genuine feedback very much – thank you for your support and we hope that the app continues to give you value! Enjoy!
Get IRL from App Store
What is your opinion about IRL