(Game) Smashy Road Wanted
iphone games download free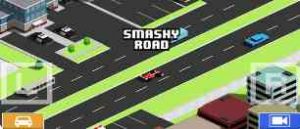 Game Description :
You are WANTED! Take your driving to new heights! Master and unlock all 90 vehicles. Race through the desert, grasslands and the city or encounter SECRET areas with great rewards! Escape the POLICE, the SWAT, the ARMY JEEPS and the TANKS! How long can you last?
Smash the road and see if you can beat your friends highscore in the online leaderboards!
Game Features :
90 unlockable vehicles!!
Random generated environment with chance to encounter secret locations
All vehicles have their own behaviour. Find your favourite!
Great visuals and sound
PLEASE NOTE! Smashy Road is free to play but some game items can also be purchased for real money. If you don't want to use in-app purchases, please disable in-app purchases in your device's settings.
Optimised for iPhone 5 and above.
privacy policy: www.bearbitstudios.com/privacy/
terms of use: www.bearbitstudios.com/terms-of-use/
FOLLOW US
www.facebook.com/smashyroadgames
twitter.com/smashyroad
Additional Information :
Compatible with iPhone, iPad, and iPod touch.
Requires iOS 7.0 or later.
Size 166.8 MB
User Reviews :
You should add money that gives you $20. There should be $500 bill on buildings so that when you hit a truck and explode you may have a chance to land on the buildings. There should be a boat in the Legendary section that allows you to go into the water for 30 seconds and then you have to go on land for 10 seconds before you can go in the water again. In the water there should be a $1,000 bill you can collect. You should remove getting the same car twice. It's like winning the lottery if you get the last car. You should be able to buy every car for $16. You should also add a free reset button. There should be an OP section that has a flying car that can only fly for 15 seconds at a time. There should be easy, normal, hard and and impossible modes. You're super fast on easy and nothing changes on normal. On hard mode you're super slow and on impossible mode you're super slow and S.W.A.Ts and police come at you immediately. One question: is there an end to the game?
This game is cool but I need more updates like you could be the cop and you could taste like robots and other stuff and you could try there's no cheating thing where you can like trade with your friends you should put like names or like tags on people so you could just out of them you could maybe make some things work when you get a new car you could and it says you're ready got it you could like get another chance or watch a Videos or pay like $100 in the car should be like 50 because I think it's just better that way to add more legendary's and my car is in the legendary's should be a little bit more easier to get than other stuff so like a medium rare and I thinkThe gift should've like the gift for like money it should be more like more than 100 should be like 200 because it's just a giftI think you guys should I upgrade your thing and I hope you guys listen to my stuff that I had to say and please update
Get Smashy Road Wanted from App Store
What is your opinion about Smashy Road Wanted
Get more free apps & games daily
Subscribe to our mailing list and get free apps & games daily to your email inbox.
Thank you for subscribing.
Something went wrong.