(App) Record by Under Armour
iphone apps download free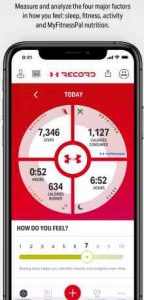 App Description :
UA Record™ is the world's first 24/7 connected health and fitness system. Track sleep, fitness, activity and nutrition. Set and reach goals, connect and sync devices, and follow friends and UA athletes. Get personalized insights to help you feel, look, and perform better. Use the complete and powerful UA Record™ app on its own, or with UA HealthBox™ and MyFitnessPal®.
App Features :
Track and Analyze Sleep, Fitness, Step Activity, Nutrition and Weight
Log workouts including gym, running, fitness classes, yoga, outdoor workouts, and more.
Use your phone's GPS to map your routes and see how far and how fast you run or ride. Connect your UA Band™, UA Heart Rate™, or other Bluetooth Smart heart rate straps to track heart rate for any kind of workout, including gym, treadmill and yoga.
See sleep, fitness (workouts), step activity, nutrition and weight activity all in one place. Use your iPod Touch, iPhone 5s, iPhone 6, iPhone 6 Plus or later to track your steps or connect an activity tracker (like UA Band™) or GPS watch.
Cross-compare data such as fitness vs. sleep, step activity vs. nutrition, and other combinations.
Get insights (powered by IBM Watson) to help you improve and see where you stand compared to similar users.
See your data visualized to identify trends and improve your performance.
Works with Apple Health.
Set and Reach Goals
Set goals for sleep, fitness, activity, nutrition, and weight.
See progress to goals by the day, week, month, or year.
Join and Challenge the Community
Get inspired by the Under Armour fitness community and invite friends to join.
Like and comment on friends' workouts, photos, and videos.
Create Challenges and invite friends to see who can log the most workouts, take the most steps, burn the most calories, and other activities.
Follow Under Armour's elite athletes and see how the pros get it done behind the scenes and on the field.
Connect and Sync Devices
Easily connect UA HealthBox™, UA Band™, UA Scale™, UA Heart Rate™ and other devices.
Connect apps such as MapMyFitness® and MyFitnessPal® to aggregate data and have a single view of your activity and progress.
Connect to share your UA Record™ activity with Apple's Health app.
Note: This app may use your location even when it isn't open, which can decrease device battery life.
IBM Watson is a trademark of International Business Machines Corporation, registered in many jurisdictions worldwide.
Additional Information :
Compatible with iPhone, iPad, and iPod touch.
Requires iOS 10.0 or later.
Size 266.2 MB
User Reviews :
Finding an app by which to track my gym workouts was hard. This Record App hit most of my personal goals for such a Record. It has its deficiencies, such as creating a record of a separate workout the same day. There may be a way, and I've been a user for a month. This is a basic tool. It doesn't create a record of each activity, only overall achievements of the day. At least, I don't think so. Also, one requires third-party software and tracking devices to record heart rate and BP and breathing. The UA Record App deserves 4* for ease of use, subject to a break-in period, compatibility with some outside apps and devices but not enough, and as an idea and for its design. Before installing, make sure the devices/apps you already own have compatibility and will sync with Record, or like me, you will be manually entering the data.
I've been trying to work with this app for about three months now and I'm ready to give up. The resolution seems to be a simple communication fix that has yet be rolled out in an update.I switched from a Fitbit to an Apple Watch and this UA app seemed to be the perfect replacement for the Fitbit app. It's supposed to pull all your data (nutrition, sleep, activity, fitness, etc.) into one dashboard for easy monitoring and tracking. The problem however is that it fails to sync with other data sources. When refreshed it won't load myfitnesspal data as one would think it easily should. It will usually only load steps and that's it. Very frustrating as this was the closest app that I could find to be a one stop shop for health & fitness monitoring that was comparable to the Fitbit data format and it's failed miserably. For all of the walking, running, and nutrition UA apps available one would think this would be a simple and seamless interface. Please fix, I would love for this be my go-to app for my fitness monitoring.
If I had I negative about UA products it would be the wrist band. I went through two bands inside of 18 months. Without the band I cant get steps to count from my phone or other Exercise bands. I understand it's about but it turns me off about buying another band. The weekly roll up for fitness is outstanding. The sleep tracker when able to use the band is phenomenal, but again the two bands failed with constant use averaging about 9 months each. NOT cool or cost effective for consumer at $100 per.If they could improve their band durability, the band charging mechanism needs improvement, and allow for steps to be adjusted when using a phone or other methods to count, I would continue to use this app. I really enjoy the use of this app and it's features. It helps motivate me to make my personal daily goals. The friends aspect allows me to stay in contact with folks all around the world with similar likes and overall goals for personal fitness.
Get Record by Under Armour from App Store
What is your opinion about Record by Under Armour
Get more free apps & games daily
Subscribe to our mailing list and get free apps & games daily to your email inbox.
Thank you for subscribing.
Something went wrong.