(Game) Match Land
 iphone games for free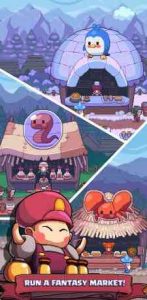 Game Description :
Welcome to Match Land! Run a fantasy medieval market in this match 3 RPG adventure!
Form a team of heroes then battle and catch cute creatures to serve as ingredients for your fantasy food shops! Yum!
Game Features :
NEW action/turn-based match 3 gameplay!
Make multiple matches per turn to build up massive combos!
Unlock and upgrade over 30 fantasy food shops!
Form the ultimate creature catching team from over 60 unique heroes!
Battle through over 700 levels and 70 formidable bosses!
Beautiful retro pixel art aesthetic!
Follow and contact Race Cat at the following links:
Twitter:
@racecatgames
Website:
www.racecatgames.com
Additional Information :
Compatible with iPhone, iPad, and iPod touch.
Requires iOS 8.0 or later.
Size 224.8 MB
User Reviews :
I don't keep games a long time on my phone because mobile games, especially 'F2P', are really disguised as money suckers. Not the case with Match Land, you can play entirely without paying a penny. It hits all my requirements too. No PvP, Facebook login nonsense – just a good, single-player concept slightly more challenging than your typical match-3 games. I appreciate the fact that I can spend an entire afternoon playing or pass time in line quickly playing this and easily put my phone down from either. It's definitely something I come back to everyday, even after months of playing. It's almost reminiscent of old Pokémon, collecting your heroes and leveling them up without extra gimmicks like personalities or what time of day you train it. For the record, I like this game way more than the CN version of it and I've already deleted that one. It felt too flashy in efforts to attract both kids and adults. While I did enjoy the addition of diagonal movements in CN's Match Land, it wasn't implemented well enough and it would wrongly swipe. The original Match Land is much more solid of a game. Thank you for the game and new update, Race Cat! It just keeps getting better with time.
Really can't see where any of the reviews calling it a cash-grab are coming from. I've been playing for like 6 months now and I've never spent a penny. It's not "absolutely impossible" to pass certain levels without spending money, it just requires taking time, leveling up your heros and multiple tries, you know, like a real video game? I'm a level 56, currently in the cursed swamp. I am too weak to beat the current boss, so instead of crying about it or spending money, I am going back to past levels to collect material to level up my heros until I'm strong enough. The arena of skulls challenges are the best part of this game, super fun and a great way to level up and collect material/currency. No bugs to report either. I'll continue to play this game for a long time.
I am currently level 43, and I have really enjoyed playing this game. It's one of the only games that stays on my phone. I personally do not experience any issues with levels being too hard. If level is too hard I simply grind on evolving and getting new characters, as you typically do when playing RPG's. It's kind of nice to for when I don't have time to play a level, but still want to pass little time. I have spent a few dollars on this game, but if you're patient you can easily grind all the things that you need for free. The arena really helps with that too. I have never had any issues with crashing. I am giving at four stars because there are a few things that I would like to see added. For starters, Id love if there was an option to cash out herbs that can no longer be used, similar to cashing out extra hero tokens. There was a second part, but I forgot what it was. I will update when I remember. Thanks for a great game!
As the title says, the pixel art style of this game is for the most part very polished and the game looks pretty good in general. Gameplay wise the mechanics are pretty simple to understand and pretty satisfying to use but there are some vague mechanics that are never explained such as how targeting works when you don't manually target enemies or how it appears that different colored heroes appear to be able to hit multiple enemies at once while other colors are only capable of hitting a single enemy per attack. The biggest problem however, is that since the bone area was added there has not been any new content and as a result the endgame has slowed down to a halt for me and I am starting to not find the game fun anymore. The game gets 4 stars from me because it was able to keep me hooked for a pretty long time until I got to this point.
Get Match Land from App Store
What is your opinion about Match Land
Get more free apps & games daily
Subscribe to our mailing list and get free apps & games daily to your email inbox.
Thank you for subscribing.
Something went wrong.